Got a big interview coming up? The best interview prep you can do is to prepare a 30-60-90-day plan. And the best interview you can have involves you presenting your plan to your future boss. See these top 10 posts on 30-60-90-day plans for job interviews.
Reasons Why You Want to Bring a Plan
7 Reasons a 30-60-90 Day Plan Will Get You Hired - It's all about the job offer...
This Is Why You Need to Bring a 30-60-90 Day Plan to Your FIRST Interview - Save your plan for a second or even final interview? Never.
What Is a 30-60-90-Day Plan? (...and Why Do You Need One for Your Next Job Interview?)
How to Create a Plan
30-60-90-Day Plan: How to Create and Use It to Knock Their Socks Off in the Job Interview
Best 30-60-90-Day Plan Template for Job Interviews
How to Find Information for Your 30/60/90-Day Plan - A good plan requires a lot of specific detail. Here's how to find the information you need.
30 60 90 Day Sales Plan Template - Sales jobs require a slightly different kind of plan. Are you in sales? Read this.
Advice and Answers
A Hiring Manager's Advice on Creating a 30-60-90-Day Plan - Here's what hiring managers (your future bosses) wish you knew—GREAT tips.
How to Prove You Have the 'Soft Skills' Employers Want Most - These are the skills that employers value across all industries—and here's an easy way to prove you have them.
30-60-90-Day Plan FAQs - I'm answering the most-asked questions about 30-60-90-day plans.
-----
If you have a big interview coming up soon, I strongly encourage you to get one of Career Confidential's proven, tested, pre-formatted plans with video instruction on how to find information, how to build your plan, and even more importantly, what to say about it in the interview. Each plan comes with a review by me so you can know your plan is exactly what you need.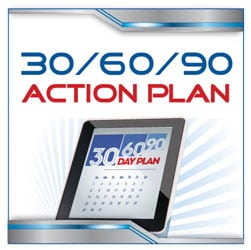 100% guaranteed 30-60-90-Day Plan templates (with coaching!):
Action Plan (for all jobs)
Sales Plan (for sales roles specifically)
Managers Plan (for management level roles)
Executive Plan (for Directors, VPs, Presidents, or C-Levels)