How can you stand out over other candidates? What do you do if you have a problematic issue in your background that may hold you back? What happens if you're light on experience? The good news is that you can overcome these obstacles, stand out, and get hired with a 30-60-90-day plan template for job interviews.
The Big Idea for 30-60-90-Day Plans
A 30-60-90-day plan is an outline of researched and thought-out goals for your first 90 days on the job. When you take your plan to the interview, you want to go over it with the hiring manager (your future boss). That conversation elevates your interview from an interrogation-style Q&A to a productive conversation between two people on the same team. That connection and your insights give you a huge boost past your competition and get you job offers.
Because these plans can be used for any kind of white collar job, they are flexible and adaptable (to an extent). At the same time, there are commonalities among jobs, which means that there is a framework to follow.
30-60-90-Day Plan Template for Job Interviews
First, you have the freedom to set your plan up in an outline form or in bullet points. Use whichever makes the most sense to you. Then, make sure you have one page for each section of your plan (the 30 days, the 60 days, and the 90 days). It's a mistake to have a plan that's too short (1 page) or too long (10 pages). What goes in your sections?
(**Some jobs may require a shorter or longer time period for each of these sections. Use your best judgement.)
First 30 Days
Typically, the first 30 days of any job are focused on getting established. You're learning your way around the company. You meet people you'll be working directly with, as well as key customers or clients. You'll learn how to file reports or work with the CRM system. So, for instance, two of your bullet points might be:
Complete training on [name of primary company software or program]
Introduce myself to department peers
Next 30 Days (the 60-day section)
By now, you've got your feet wet and should be wading a little deeper. You'll be getting to know an expanded group of people. You'll be getting routines established or beginning to make plans for growth.
So a couple of good points here might be:
Evaluating X program for efficiency or stability (or whatever the goal may be)
Getting feedback on progress so far from supervisor X. (Feedback is important in any job!)
The Last 30 Days (the 90-day section)
At this point, you should be swimming on your own, actively contributing to the company goals. Your bullet points will be much more specific to your role here. For instance, you may be:
Going after new business from X companies
Staring X new projects
Establishing a new procedure for X
Setting long-term goals for X
Adjust your plan to fit your job.
How to Find Specific Information to Fill Out Your Plan
The best plans are customized to the job you're interviewing for. How do you find the company-specific details you need?
If you're new to that role, research it. Read articles about that job—a typical day on the job, tasks involved in the job, issues facing people in that job, etc.
Whether you've worked in that role or not, research the company. Find out things like: what software they use, what training they offer, who their biggest customers, clients or competitors are, etc. The more you know, the better off you are—both for your plan AND your interview.
You can find this info through online searching, LinkedIn, company websites, and your network. See if you know someone who's worked there before, or can set you up with someone who has.
What if your plan's not perfect? That's OK. It really can't be perfect because you haven't worked there before. Do what you can and have that conversation with the hiring manager. That's the important part.
30-60-90-Day Plan Templates to Fit a Variety of Jobs / Roles
We offer organized, fill-in-the-blank plans so you only have to add in your company specific info. They also come with video coaching to walk you through how to put your plan together and how to have that conversation about it in the interview. I'll tell you when and how to bring it up and most importantly, what to say at the end of your interview to clinch your job offer.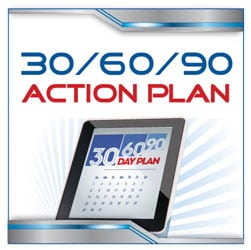 Check out our 30/60/90-day plans here:
Each one of these plan templates has been proven to get job offers. Get yours today. Best of luck!