Are you ready to ace a video interview? You should be, because there's an online or Zoom interview in your future. (Or Skype, Microsoft Teams, Facetime, Webex, or so many more.)
Video interviews have been on the rise for a while–but 2020 made them a necessity. Employers like video interviews because they're fast, easy, and convenient. They can interview more people in a faster time to find the right person.
Here's the scary part: If you're like the job seekers I've coached lately, you're making a mistake that's costing you the offer and you don't know it. Once you correct the issue, you'll get the job.
What Can Ruin a Video Interview
Here's just a few of the things that have ruined online interviews:
Technical issues they weren't prepared for
Bad connections, dropped calls, and other issues can make you look less competent than you are. You need to know how to make sure you are communicating clearly and what to do if this call just isn't working. This is a big instance where practice makes perfect.
Sitting too close to the camera
In one instance, I coached a gentleman who sat so close his face looked like a floating head from a bad 60s horror movie. Make sure you back up a little.
Looking in the wrong place
Please, make sure they see more than your eyelids. Look into the camera when you speak.
Backgrounds that make them look bad
These say more about you than you know. I've seen jobseekers lose offers because of messes and even alcohol bottles in the background. The ideal background keeps their focus on you and doesn't distract from that.
Failing to project enthusiasm that translates on camera
Showing enthusiasm for the job is always important, but on camera you have to turn it up just a bit—but not too much.
How to Ace a Video Interview on Zoom, Skype and More
As a coach, I've seen so many of these issues and more, I decided to write a book about it.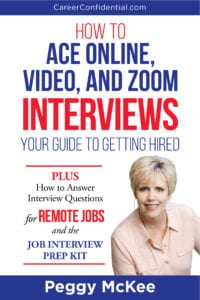 How to Ace Video, Online or Zoom Interviews: Your Guide to Getting Hired
In this book, I show you:
How to do the technology and fix issues
What your background should look like
What to wear, where to sit and where to look
How to prep for a video interview
How to communicate well through video
How to prep for and excel in your interview
How to avoid unique video mistakes and recover when you can't
I even included 2 bonuses: My Job Interview Prep Kit AND 12 Questions and Answers for Remote Jobs (where you'll be working from home instead of in the office).
It's for anyone with any level of experience with video communication and technology. If you're new to all this, you'll have what you need to excel. If you've already done more Zoom calls than you ever wanted to, you will still learn some exciting tips and tricks to make your interview a job-winner.
I hope you enjoy it! Get it on Amazon today.