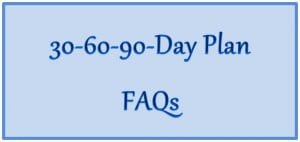 A 30-60-90-day plan is THE interview tool that will secure the job offer. However, if you've never created a plan before, you probably have a lot of questions.
I put together the questions I'm most often asked about 30-60-90-Day Plans and answered them here for you.
Why is a 30-60-90-Day Plan a 'job interview miracle tool?'
A plan makes you stand out across the board. The research and thought you put into creating it make you better at answering interview questions. Discussing it in the interview elevates your conversation into an in-depth professional discussion of how to approach this job. It vividly demonstrates your commitment to success and helps them see you in the job, which helps move them closer to offering it to you. The plan has helped many candidates get job offers for more senior roles than they interviewed for (at higher salaries!) and it's helped less-qualified candidates beat out more experienced ones.
For more information, see my video, Why 30-60-90-Day Plans Make Interviewers Love You.
What kinds of jobs do 30-60-90-day plans apply to?
A 30-60-90-day plan can apply to ALL white-collar jobs, from entry-level to CEO. Every job has a set of things that you need to accomplish in order to be successful. The details change, but the concepts remain the same: getting to know your new surroundings, mastering systems and procedures, and implementing things of your own to contribute to the organization.
See these related articles: 
30 60 90 Day Plans for Technical Job Interviews
30 60 90 Day Plans for Sales Jobs
30 60 90 Day Plan Wins Job at Non-Profit
30 60 90 Day Plans for Management Level Jobs
30 60 90 Day Plan Wins Executive Level Job
30 60 90 Day Plan Wins Job for Nurse Practitioner
30 60 90 Day Plans for Teachers
How can you create a plan if you don't know that job?
You'll use information from the job description, and you need to do some research on that job, that company, and maybe even the interviewer. Imagine how much stronger you'll be in the interview after that.
Isn't bringing a plan overkill for a first interview?
Absolutely not. If you don't showcase your skills and abilities as much as possible, you may not get a second chance at all. The second interview is the time to bring a revised version of your plan, based on what you learned in your first interview conversation.
See Is a 30 60 90 Day Plan Too Arrogant for a First Interview?
Can the plan be verbal rather than written?
With only a verbal discussion, you won't have the impact you could have with a written plan. There's something about having that formally written out that makes them take it (and you) seriously.
See 7 Ways a 30 60 90 Day Plan Gets You the Job
How long does a plan really have to be?
A 1-page plan won't cut it—that's almost an insult to the job. Instead, create a page per section (30-day, 60-day, and 90-day). You may need a longer plan if you are at a higher level, such as VP, Director, or C-suite.
See What Does a 30 60 90 Day Plan Look Like?
How do you bring it up in the interview?
Some questions are obvious times to introduce your plan, such as 'How do you see yourself approaching this job?' If you don't get an obvious cue, you can simply say at an appropriate time, "I've thought a lot about how I can be successful in this job. I've put it into an outline to organize my thoughts, and I'd like to get your input on it."
What happens if the hiring manager isn't interested in it?
If the hiring manager dismisses your plan and the work you put into it, I hope that you seriously think about whether or not it's a good idea to work for someone who doesn't want to know how you think, how you work, and what your plans are for your job performance.
But again, even if you don't get to show your plan in the interview, the work that you put into creating your plan will make you much stronger in the interview. You will still stand out from your competition.
What if I get it wrong?
This is a big worry for some, but it shouldn't be. It isn't possible for you to get every detail exactly right, because you haven't been in that job, in that company before. However, the more research you do, the closer you'll get. You can ask the hiring manager about this or that as you talk, and then you can revise it for your next interview. It's that simple.
——-
Because I have so much experience with these plans (my own experience and that of my candidates as a recruiter and career coach) that I put together perfect plan templates for you with video coaching that answers all your questions and prepares you for using the plan in your interview. It will save you hours of time trying to figure out what goes in your plan.
Get proven 30-60-90-day plan templates here: