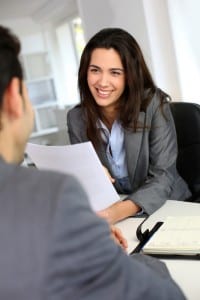 Have you ever thought that creating a 30-60-90-Day Plan for a job interview is way too arrogant or presumptive?  Or maybe you just believe there's no way to have the information to create a plan before your first interview?
Meghan worried that creating a plan was too 'over the top.'  See what Meghan's interviewer said about her 30-60-90-Day Plan:
I can't say enough about THE 30/60/90 day plan book. I bought it… in preparation for an interview I had coming up for my dream job. I have several years experience under my belt but I am just graduating from college.

I took my time, did my research and came up with a solid 30/60/90 per the book's instructions. I was nervous. I thought I could come across as arrogant or that doing the plan was being over the top. I brought the plan anyway and at the right moment, introduced it.

They were impressed but didn't act WOW'ed so I didn't know how to perceive it.

As I was leaving the interview, I ran into my competition. Someone with many years' more experience than myself and someone I know has had a degree for YEARS….decades, really.

Today, I got a call that they had chosen ME to move forward in the hiring process. What tipped the scales? My enthusiasm, my brag book (also a suggestion from Peggy) and my 30/60/90 showed them I was a forward thinker and the type of person they wanted on their team. During the panel interview, one person even said, "I'm glad you did this. I need someone who will think this way."

Thank you, Peggy. I hadn't gone on an interview for a corporate level job..well, ever. This was dynamite and I know it set me apart from my competition.

Meghan V.
Creating a 30-60-90-Day Plan isn't arrogant–it's smart.  It's forward-thinking, it's enthusiastic, and it's goal-oriented. It shows a potential employer what kind of person you are and what you are capable of, and it gets you the offer…even over competitors with more experience.
Read the book Meghan read today:  Finding a Job Fast Using a 30 / 60 / 90 Day Plan
Give yourself a head start with a perfect 30-60-90-Day Plan Template and Coaching: