Using a 30 60 90 day plan to help you get the job is important, BUT…there's so much misinformation about how to create and use a plan (and when to use it), that you could do yourself more harm than good.
A lot of so-called 'experts' give out really bad advice on how to build and use a plan. In fact, if you Google 'how to build a 30 60 90 day plan,' you'll find some recommendations that will hurt your job search…like advice to create a plan at the end of your interview process—maybe in the second interview, or the final round of interviewing.  I used to give that advice myself—before 2008. That advice is no longer effective. The job search got so competitive then that I started having my candidates bring their plan to their FIRST interview—because if they didn't bring their best game to their first interview, they might not get a second chance.
Even if you take a plan to your first interview, you can run into some problems—just because you have a plan doesn't mean it's a GOOD plan. Lots of job seekers have told me, "Hey I took a plan and it didn't work." So I say, "Let me see your plan," and 99.9% of the time, they've downloaded some plan from a Google search and it wasn't great…it's too short, not detailed enough, not strategically thought out, or even too long…a 10-page plan is going to be more about you than about what you can do for your future employer.
Bring a proven 30-60-90-Day Plan to your interview.
In this article, I'm giving you the best guidelines for writing a 30 60 90 day plan that actually does what you need it to do (get the job offer).
Questions I get asked most about 30-60-90-day plans:
How am I supposed to create a detailed plan before I ever talk to the company?
You have to do some legwork of your own to create a plan before your first interview—but guess what? That's the kind of thing that makes you stand out from your competition. Not only will you have the insights you need to create a plan, you'll be able to give more informed and impressive job interview answers. (See more about how to research for your 30-60-90-Day Plan.)
What if my plan isn't right?
If you've done your research and created a thoughtful, strategic, practical plan, it will be OK if some details aren't correct. In fact, you can acknowledge right from the beginning that, "Hey, I know some of my details might not be exactly right because I haven't worked here before, but I'm so excited about this job that I put some thoughts on paper and I'd love to get your feedback on them."
Your plan should be a working document in this first interview—THEN you can revise it and add details to it for the second interview, based on your feedback. So you have a better, stronger plan than your competition in the first interview AND the second one.
What if I have to hit the ground running in the first 2 weeks—not the first 3 months?
If your job is going to be much faster-paced than is typical, simply accelerate your plan. The tasks and goals will be similar. Every job has things that need to be accomplished in order for you to be successful.
Keep Your Overall Goals in Mind When You Build Your 30 60 90 Day Plan
Your plan should help you show your true value—what you can really do. Your plan will show that you understand and can meet company objectives.
Your plan is a document that helps you communicate with the hiring manager (your future boss). When you talk it over, you get on the same page. A good plan gives you a blueprint for success in your first few months.
Your plan should help you answer the 4 unasked questions of every hiring manager:

Do you understand the job?
Can you do the job?
WILL you do the job?
Do you pose any risk to my own continued employment?
What does a good 30 60 90 day plan look like?
A good plan is detailed and specific. For instance, everyone in the first 30 days should get to know the software or programs the company uses. In a really impressive plan, you'll find out the name of the software and include it in your plan. That shows initiative and attention to detail that hiring managers love.
In general, you want about a page per section. Lists out your tasks in an attractive, easy-to-read way…maybe with bullet points or in an outline form. You'll need room to take notes on it as you talk it over with the hiring manager in the interview anyway.
30-Day Section
In the first 30 days, most people are getting their bearings in the company. You're meeting people—your co-workers, support departments, customers, clients, and so on. You're learning how to navigate the corporate systems—the software you're supposed to use, reports you're supposed to file, the paperwork you need to complete, etc.
So, depending on what job you do, the bullet points in the 30-day section of your plan might look like:
Learn CRM Software [add the name]
Do a SWOT Analysis of the company
Meet Co-Workers and Have Lunch with 3 per Week
Introduce Myself to [name here], Marketing Director of XYZ Company
60-Day Section
In the second month, you should be digging deeper—getting to know others "further out" from your immediate position: maybe smaller level customers, infrequent clients, or your counterparts in other facilities. Now that you have a stronger grasp of what's going on, you can start looking at improvements you can make now, and plans for larger-scale improvements or projects in the future.
Your bullet points in the 60-day section might be:
Visit All Anchor, Core and Developmental Accounts [this would be in a sales role—if you can name some of the accounts, that's a bonus]
Take Note of Issues [this could be product issues, shipment issues, warehouse issues, etc.]
90-Day Section
Now that you know all the pieces, the players, and the resources, you should be able to take off on your own. You can start implementing programs or improvements. You can improve efficiency or start bigger projects or go after new customers.
Your 90 day bullet points could include:
Research, Evaluate, and Make Contact with New Clients [name some possibilities]
Evaluate Changes Made to X in second month and Begin Other Improvements
Use 80/20 Rule to Evaluate Staff Performance
You may end up completing some of your 3rd month tasks in your 2nd month—that's OK.  The goal is to walk your future boss through your thought process—how you approach problems and how you plan to meet goals.
It's like giving the hiring manager a 'test drive' of what it will be like with you holding that job.
30-60-90-Day Plan Templates
Because it's so difficult (and so important) to find a plan that's proven to work, I've created templates (that include video coaching on how to create and use 30-60-90-day plans) for sales jobs, management-level jobs, executive positions, and for all white-collar jobs.
I based the framework of my plans on those I had used in my own job searches (where I got 5 offers in 1 search), and my experience as a hiring manager and recruiter. I knew exactly what hiring managers wanted to see in a good plan. I showed my candidates and clients how to create a good plan, and it worked like a dream for all kinds of career fields (they received job offers on the spot, job offers within minutes, job offers for higher salaries…you get the idea).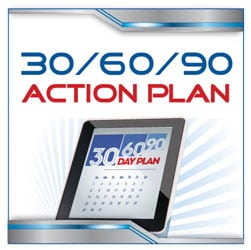 You can purchase and download a proven, guaranteed plan with coaching on how to complete it and talk about it in your interview.
Get proven 30-60-90-day plan templates here: