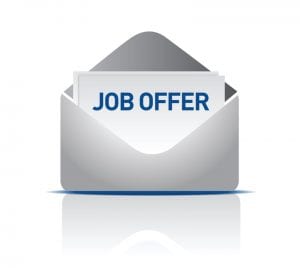 Pete had a lot of experience and success in his field as a retail store manager. Getting a new job should have been easy—but it wasn't.
He'd already been to several interviews, so he had his answers down pat. He knew he interviewed well, and he had all that past job success to back him up. He'd get dressed up, drive to find the place, and go in—only to find out that he was competing against 20-30 other people who were just as strong as he was. Not only did he have all that competition, he was a little older, which was working against him. He never got the job.
Maybe you can feel his frustration. Even though companies are hiring, there's still a lot of competition for the best jobs.
Job search techniques and strategies have changed. Job seekers are more sophisticated about how they prepare for interviews, and they are more mobile than they used to be. Many people are ready to pick up and move for the right position.
Pete knew he had to do something different so that he could get hired, but what? He decided to showcase how he would approach the job by creating a 30-60-90-Day Plan.
In his next interview, Pete didn't get the store manager job. Instead, the company offered him a regional manager job over 6 stores—with a big salary bump to go with it.
How does someone go from not getting an offer for a job they are clearly qualified to do, to getting a great offer for a higher-level job than what they interviewed for? The 30-60-90-Day Plan.
Why did a 30-60-90-Day Plan make such a big difference?
While all the other candidates were having the typical interview conversation, answering the same questions as everyone else, Pete elevated the conversation. He and the hiring manager, with the help of the plan, had an in-depth, professional discussion of what was needed to be successful in that role.
The hiring manager could clearly see that Pete knew what he was doing and could apply strategic, thoughtful analysis to that job. With the plan, he had a clear mental picture of what it would be like with Pete as an employee. He could see that Pete was someone who could add incredible value to his company.
What's In a 30-60-90-Day Plan?
A 30-60-90-Day Plan is simply an outline of what someone in that role would need to do to be successful in the first 3 months. Typically, it's broken down into the first 30 days (orientation and training), the next 30 days (deeper understanding and more responsibilities) and the last 30 days (implementing your own ideas, bringing in new business, etc.).
The concept is simple, but the impact is huge. With your plan, you've taken the risk factor out of hiring you. They know what you'll do, because you've shown them. They can feel comfortable and confident in offering you the job. They can even feel very excited and enthusiastic about bringing in someone with your initiative, knowledge, and obvious drive to succeed.
A 30-60-90-Day Plan is the #1 way to improve your interviews so you get the job offer.
These plans are effective if you've had a lot of experience like Pete, or if you are brand new in your field. For newbies, they prove that you know what you're doing. I've seen these plans get offers for many people with less experience than the competition. They adapt to any white-collar job, at any level all the way up to the C-suite.
I encourage you to learn all you can about 30-60-90-Day Plans. It's important that if you do one, you do it right. You have to put in the research to make it specific to that company, and it has to be detailed to deliver the impact you need. When it's done right, your plan will help you stand out in a big way and crush that interview, and you will get the offer.
More Information about 30-60-90-Day Plans
7 Ways a 30 60 90 Day Plan Gets You the Job
30 60 90 Day Plan: How to Create and Use It to Knock Their Socks Off in the Job Interview
Why 30 60 90 Day Plans Make Your Interviewer Love You
How to Find Information for Your 30 60 90 Day Plan
30-60-90-Day Plan Templates and Video Coaching