New college graduates: What's your biggest job interview problem? You haven't interviewed much? You don't have any experience? You've got your eye on a dream job and you want to make sure you get it? These top 5 job interview tips for new college graduates will help (and a few free tools!).
1 – Research the Company
The best-prepared candidate is often the one who gets the job offer. One of the ways to be the best-prepared candidate is to do extensive research on the company and the job.
Never use an interview to ask a question you could find with an internet search. Find out everything you can through Google, LinkedIn, Facebook, Twitter, and the company's corporate website. First, find out company locations, size, mission/values, and products/services. Then, see if you can find out who their competitors are, what issues they face, where they seem to be growing, and what they've done lately that's made news. While you're on LinkedIn, check out the profiles of people who work there to see what their backgrounds are and how long they've worked there. Those can be big clues for you.
2 – Practice Great Answers to Interview Questions
To prep for any interview, you need to come up with great answers to interview questions, know how to sell yourself, and have stories that illustrate your skill set or successes.
(Don't miss these 101 Job Interview Questions and Answers)
However, the thing your competitors will miss that will make you shine is PRACTICE. Rehearse your answers to interview questions. When you do, you'll be more comfortable delivering them. You will seem both more confident and more capable.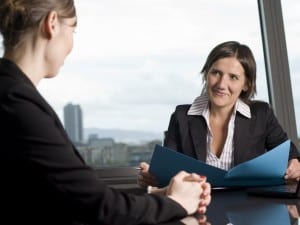 Of course, you can't practice every answer to every question that will be asked. But you can have good answers ready to go for common questions like:
(Bonus Tip: Have some questions to ask ready to go. You'll boost your interview performance in a big way.)
3 – Overcome the 'Lack of Experience' Objection
Yes, employers know that new college graduates don't have much experience. But, you're competing with people who do. How can you show that you can and will do this job well?
The very best way to prove that you can do this job is to give the hiring manager a test drive by bringing and showing a 30-60-90-day plan. I've had so much success with these plans personally and with my clients that I would never, ever, go to a job interview without one.(See how a plan helped a new grad get a job usually reserved for those who'd had a 2-year fellowship.)
Find out more about 30-60-09-Day Plans here.
4 – Line Up Solid References
References matter a lot. You need not only to choose the best references but coach and prep them for the call. Learn the rules for references here.
5 – Know How and When to Follow Up
You do not have to hand-write a thank you note. But you DO need to email one. Send your thank you email within 24 hours of your interview. Sometimes hiring gets done fast and you need to have one more chance to sell yourself. You can even use your email to do damage control, if necessary. Here are some thank you note samples for you.
——
You can watch my job search and interview training webinars at no charge. Build your skills and get the job you want! See details here.
Best of luck!