Creating a 30-60-90-day plan for your job interview is a wonderful idea—but not all 30-60-90-day plans are equal. I've seen a lot of free plans online that are worth about as much as you pay for them (nothing!). These plans can help you crush your interview, but you must have a smart, strategic, effective plan.
What makes a truly effective 30 60 90 day plan?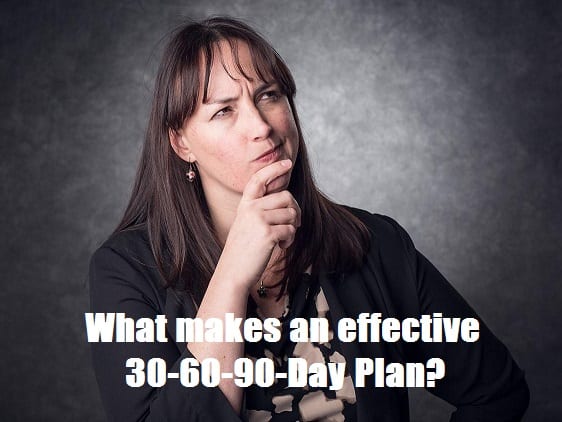 It needs to be specific to the company you're interviewing with.
You can't know absolutely everything that will come up on the job in the first 3 months. You CAN know what your game plan will be and what your biggest goals are.
The most effective 30/60/90-day plans are specific to the company—which means: you include the name of the software they use, or the training they give new employees, or their top customers or competitors, or other things like that.
How can you possibly find out those things if you haven't worked there?
Research.
Go check out the company's website. You can pick up a lot of information there on the company's size and location, mission or values, products and services, job listings (which may give you some terminology to use) and more.
Do a Google search. Look for the company in the news, company press releases, blog posts, and other sources of information.
Search LinkedIn. Companies often have their own LinkedIn pages, and executives / managers usually have profiles, too. These can offer a lot of information. Check out group discussions. What are people saying about this company? Who's their main competition and what are they working on? Ask others in your network, too. People who've worked there in the past may be fountains of information for you.
Investigate Twitter. If you know a few employee names, you can look for their Tweets. What are they saying about the company or projects?
Check out Facebook. Companies often maintain Facebook pages with different kinds of information than they put on LinkedIn. You may even find it a little easier to gather some intel from people who work there.
Need more help?
Even if you understand the concept of how to create a 30-60-90-day plan, execution can be difficult. To help you, I've developed a perfect 30-60-90-Day Plan Template (with video coaching) that makes it easy for you to create and use a plan in your interview. Knowing when and how to talk about your plan in that conversation is the most important piece of all, and it can be the most difficult.
Get proven 30-60-90-day plan templates here:
Get the one for you and start developing your plan today.