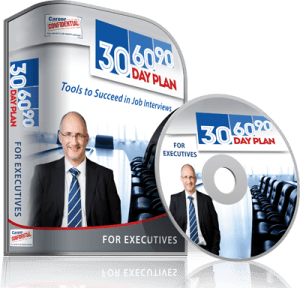 Qualified executive Tom had trouble landing the job for 8 months...until he brought a 30-60-90-Day Action Plan to his interview. His new boss thought it was what set Tom apart and helped him beat out two other qualified candidates. Congratulations Tom!
Hi, Peggy,

After 8 frustrating months, I just landed a VP level position with a well known company. Being 62 years old made this even more remarkable. My resume was already in the format you suggest, but handing the 30/60/90 day plan to the hiring manager made the difference. There were two other qualified candidates, but my new boss specifically mentioned the action plan as something special. Thanks for your help!

Tom F.
I speak to a lot of people in their 60s who have real trouble getting a job...but with the right approach, you absolutely can get a great job. At any age, how you present yourself to the employer makes all the difference.
(1) The first thing anyone over 40 needs to do is attend my Free Training, 5 Simple Tips to Beat Age Discrimination in Your Job Search.
Age bias is a real problem (for a lot of reasons), but there are things you can do that make it a non-issue (or even an advantage).
(2) I cannot encourage you strongly enough to find out about 30-60-90-Day Plans and what they can do for you in the interview:
7 Ways a 30-60-90-Day Plan Gets You the Job
30-60-90-Day Plan: How to Create and Use It to Knock Their Socks Off in the Job Interview
Why 30-60-90-Day Plans Make Your Interviewer Love You