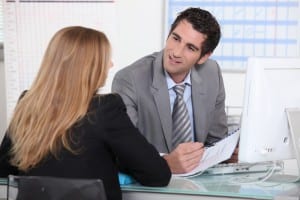 In job interviews, employers will be very interested to know how you will plan to approach the job if they hire you.  The best way to answer that question is with a 30-60-90-Day Plan.
Jeanne was having a lot of trouble landing a job offer (lots of applications, lots of interviews).  She knew she needed help to land the job offer, so for her next interview, she got my 30 60 90 Day Sales Plan. See what happened:
Hello Peggy!  I just wanted to let you know my results from using your 30 60 90 day sales plan.  …I moved from NJ to AZ [but] I didn't have a job waiting for me here and thought it would be easy to get a job once I got here.  Well, turned out to be the exact opposite.

Fast forward almost five months, after countless online applications and interviews that I never heard anything back from, I was contacted by a recruiter on LinkedIn about a job that sounded amazing!  My confidence [was] now a bit shaken and deep down I had some insecurities that I was never going to get this job.

I had a phone interview with the recruiter (who works for the employer) and took an online assessment and made it to my first in-person interview with the hiring manager. The interview went great!

As we wrapped up he said we are going to have another interview and I want you to be able to tell me in our next meeting how you plan on tackling this job.  I really wanted this job so I started researching online and came across your web site.  After watching any video that was available on you and the 30 60 90 day plan, I knew I needed you.  Let me also say that since I have been without a job for so long, money was super tight!   I knew I couldn't afford  not to spend the money on this.  I was going to do whatever I had to do to nail this interview.

With the help of your site, I put together my 30 60 90 day sales plan.  At my next interview, when the hiring manager asked if I had given any thought as to how I would tackle the job and when I responded with "well yes I have.  I have prepared a 90 day plan that I would love to share with you" the look on his face was priceless!!  He was not expecting this Peggy!!!  I was so prepared for this interview with my written plan and with your guidance on how to present it.  The interview went amazing.  I was offered the job within 24 hours.

I can't thank you enough.  What valuable information you pass along to job seekers.  I start my new job on [date removed] and know I have you to thank.  I thought you may like to hear my story and how the 30 60 90 day sales plan worked for me.

Jeanne R.
With a 30-60-90-Day Sales Plan, Jeanne got the job offer within 24 hours!
Bring a 30 60 90 Day Plan to YOUR next interview and land the job offer!