Can't get an interview?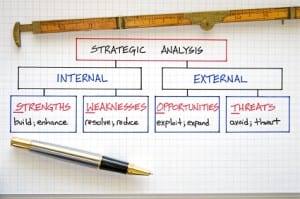 Can't get past the first interview?
Are you demonstrating the levels of commitment, drive, tenacity, skills and organization employers want?
Here are 5 powerful ways to set yourself apart from every other candidate so that YOU are the one that everyone wants to hire:
1. Preparation = SWOT Analysis:
SWOT is a strategic planning tool. It stands for Strengths (attributes helpful to achieving the objective), Weaknesses (attributes harmful to achieving the objective), Opportunities (external conditions that will be helpful to achieving the objective), and Threats (external obstacles or conditions that will harm the process). Look at the picture–it helps. Doing a SWOT analysis on the company demonstrates your drive, commitment, and skills, along with helping you create a better 30/60/90-day plan.
2. 30/60/90-Day Plan :
A 30-60-90-day plan is a short, 1-3 page outline for what you will do when you start the job. Essentially, you spell out for your future employer, in as little or as much detail as necessary, how you will spend your time–in training, learning company systems, introducing yourself to customers, and your initial plan to build sales. It demonstrates exactly how you'll be an asset. A 30/60/90-day plan is an almost-guaranteed way to impress any hiring manager or hiring team.
3. Video or Audio Communication -:
Send the interviewer an audio of video clip of yourself. Keep it short and sweet, and make sure you've checked lighting, background, and sound quality. One idea: Structure it like an elevator pitch–what can you do for the company and why can you do it?
4. Brag Book :
A brag book is a folder/ binder that you can use during your interview process to clarify your skill sets. It can include letters of recommendation, any notes commenting on what a good job you've done, staff ranking, annual reviews, rewards letters, your resume, types of equipment you've used or marketed, certifications or other educational courses, any financial or PowerPoint presentations, copies of articles you've written, brochures you've helped develop, and a college transcript (though ONLY if you're just getting out).
5. Follow-up/Thank You Notes :
Don't underestimate how important thank you letters are in the job interview process. Everybody "knows" they're critical, but unbelievably, not everyone writes them. Thank you letters accomplish several things:
They get your name in front of the hiring manager one more time.
They are your last chance to package yourself as the best, most qualified person for the job.
They are polite, and manners count.
They can be an example of your ability to take in information (the interview) and process and provide feedback or new ideas about whatever the problem was. For example: "I thought about your concerns about how to handle xyz delivery issues, when I was a product manager at ABC corporation, we used………"
(See what I mean?)
Handwritten thank-yous are nice, but e-mail thank yous are fast. Sometimes, hiring decisions are made quickly, so a timely note can be critical.
See Sample Thank You Notes here.
I know these things will help you become an outstanding candidate!