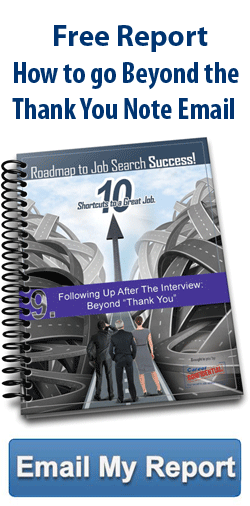 Stand out with an amazing thank you email —but don't stop there. What you do AFTER you send it can get you hired. Use these little-known but proven tips to follow up after your interview and get the job. Just like your job interview, your thank you note and follow up after the interview is a conversation. If you say the right things to continue the conversation, you stand out from the other candidates and absolutely boost your chances of getting the job. To find out how to get the job,
Download my Free Report
for the best tips to
Follow Up After your Job Interview
. This report tells you...
What the best thank you notes say
What to do if they say 'we'll call you' and they don't
What to say if they say 'we haven't made a decision yet'
What to do if they say 'we're moving forward with someone else'
You have much more influence over this process than you know. If they like you already, you can
boost your value
to them (and possibly your
starting salary
) with this information. If they are on the fence about you, you can
save your job offer
with a good thank you note and follow up plan. I have seen many people save job offers they thought they'd lost with this information.
If you want the job, download this free report now
. Here's how:
1 - Click on 'Email My Report'
2 - Fill in a valid email address 3 - Watch your inbox for your free report. This is your foolproof plan for what to do after your next job interview. Best of luck!