Don't be surprised in your phone interview if the hiring manager asks, "What do you know about our company?"  It's a reasonable question.  Why would they want to bother talking with someone who doesn't even understand what they do (and didn't care enough to find out)?
Phone Interview Tips Series
Table of Contents
Click to expand question sets, then click individual questions to read the article.

Some candidates think the telephone interview is a get-to-know-you information session, but it's really a screening process for the employer.  They're looking for reasons to cross you off their list and narrow down the field for the face-to-face interview round. Don't let them screen you out. Instead, earn yourself big points by knowing a lot about the company.

Where should you start your research? 
Start with the corporate website. You'll get a solid foundation in what the company does. You'll learn about their products or services. You'll probably get an idea of how large the company is. You'll see how technologically-savvy they are based on how well the website's done.  You can even get a sense of corporate values from their mission statement.
Then go to Google. A Google search will yield news about the company. Are they growing? Have they been hit with lawsuits? What are others saying about this company?
Definitely check them out on LinkedIn. Corporate pages on LinkedIn provide you with additional  information you can't get from the official corporate website. Also, check out the profiles of employees who work at the company. What's their background? How long have they been there? Those are big clues for you.
Look at the company's Facebook page. Lots of companies maintain a Facebook page with more casual information than what's on their corporate site or LinkedIn, so you get a different perspective.
Find them on Twitter. You might or might not be able to find company tweets. But you might easily find employee tweets, which can be pretty valuable for you.
Ask your network. Just ask around among your friends and colleagues what they know about the company. Your recruiter is a good resource, too.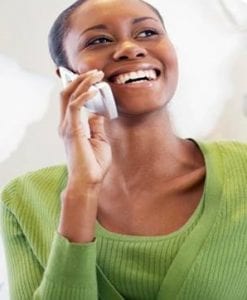 This might seem like a lot of work for just a phone interview, but it's very much worth doing. A phone interview is never "just" a phone interview. It's the first step in the hiring process. You won't get to the second step (the face-to-face interview) if you don't do a great job here.
Plus, what you find out about the company will help you do better, even in the phone interview, because you will understand more about the company and what their needs are and what they're looking for.  That knowledge will help you shape your answers to be more impressive and more likely to move you forward in the process.
Got a big phone interview coming up? Let's make sure you're ready with half an hour of coaching!