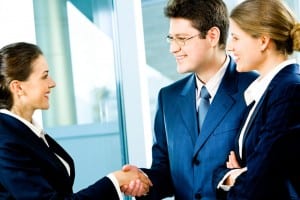 I recently disagreed strongly with Penelope Trunk's advice for women (Should Women Negotiate Salary?) and I got some fantastic responses from women who do negotiate job offers.  I wanted to share 3 of these with you because they teach important lessons for us all:
Edie negotiated for benefits when they wouldn't budge on salary, showing us that salary isn't the only valuable thing on the table:
I negotiated for the paid monthly parking space.  I was told they couldn't afford to pay an additional $5000/year for salary [so] I asked if they would pay for the parking fee. They said yes. That was $4200/year.  That's why I wanted the $5000 to begin with. It was a win-win situation for both of us, I'm sure.

Women must be assertive and must know what basics they need to include in the salary they are asking for.

Edie
Debbie learned the penalties of failing to negotiate a long time ago...
Hi, Peggy:

...I learned years ago when I went from a very low-paying job to a new one, that not to negotiate meant leaving money on the table. When my new boss asked what I felt was a fair salary, I said $8/hr. He looked at me for a minute and then said, "Done. I would have given you $11/hr. But $8 it is, and next time you might want to learn a bit about negotiating. (I did learn a lot from that boss!)

When I was offered the next job, I did my homework, and when they offered me barely more than I was already making, I laid out my salary proposal and leveraged an $8,500 raise to start, with another $7,500 more over two years.

I have not found [that] men, normally, are biased against females negotiating salaries.if they do show bias, I wouldn't want to work for them and would take myself and my skills elsewhere....your reply to Penelope hit the target. Maybe I negotiate because I'm highly competitive and I LIKE WINNING! Thanks for setting folks straight – I also hope women who heard that message scoffed at it.

Debbie
Christine proves the point that employers typically have some wiggle room on the offer--you CAN ask for more and get it:
Hi Peggy,

I negotiated on salary and benefits for my current job and at two previous jobs. Each time I received everything I asked for which definitely proves your point that if you don't negotiate, you're definitely leaving something on the table.

Thanks,
Christine
If you are unsure of your negotiating skills, I strongly encourage you to get some training on how to successfully negotiate salary.
My favorite negotiating guru is Jack Chapman, author of Negotiating Your Salary: How to Make $1000 a Minute.  I have used Jack's techniques many times, and it's always easy to negotiate from a positive place and get what you want--and everyone leaves happy.
I hosted Jack for a negotiating webinar that we recorded--you can get the recorded copy of the webinar, along with his book and other bonuses.
Don't leave money or perks on the table ever again--get the Salary Webinar here.