Job Interview Question
We are looking for someone with experience…or, You don't have enough experience—why should we hire you?
How To Answer Interview Questions Series
Table of Contents
Click to expand question sets, then click individual questions to read the post.

If you're a new graduate, or if you're switching careers, you might get asked this question, especially early on in the process, like in a phone interview.  It is a challenge, but don't let it freak you out.  They are at least somewhat interested in you, or they wouldn't have even bothered to talk to you at this point.  So keep that in mind and maintain your confidence.  They're just a little concerned, but all you have to do is to sort of help them along in their thinking on this issue.

You've got a couple of good options in this situation:

1.  Turn the tables on them.

Remind them that at one point, they didn't have any experience either, and someone gave them a chance.  Say something like, "Well, at some point, you didn't have any experience either, when you were first starting out.  And obviously, you've been very successful.  Would you hire you again?"

At this point, they'll be nodding their heads, remembering and agreeing with you—that's always a good thing!  This is a very logical thing to bring up, and it gives you a little bit of a psychological edge in the process.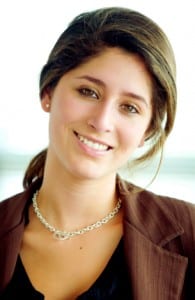 2.  Don't ask about this person's experience (or lack of) directly.  Ask about the people they've hired before.
Say, "Of your team, have you ever hired someone who didn't have specific experience in your industry?"  They will probably be nodding their heads with you, and you say, "I know there must have been a few times when that didn't work out, but there must also have been some times that it worked out really well."
They're going to say yes, and start telling you about someone who was especially successful even though they didn't have exactly the right education or background or experience.  That's your opening.  You say, "That's great.  I can be that person for you, too.  I can take those same skill sets and deliver those same kinds of results."
(This is a great time to follow up by showing them your 30-60-90-day plan that spells out for them exactly how you're going to be successful.)
Both of those answers lead that hiring manager around to thinking outside the box a little bit.  And you're gaining a psychological edge because you're drawing that connection for them between you and a successful outcome in those reminders of how it's worked out well before.
Keep your confidence, remember that you're a great candidate who learns quickly, and realize that everybody had to start somewhere.
———————————————————————-
If you can't get past the online application, or you can't find the job you really want, watch my free webinar:  Stop Applying and Get Hired Instantly!
See how thousands of jobseekers skipped online applications, got multiple interviews, and got hired fast. Get a better job faster!