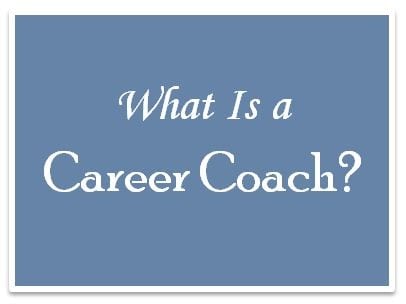 What is a career coach? A career coach is someone who helps you be better and stronger at all those things that are critical to your career success.
We don't learn those things in school. In school, we learn the technical knowledge we need to do the job, but we don't typically learn those skills we need to GET the job we want.
(A quick seminar on resume writing or interviewing through your college career center is nice, but doesn't actually get you that far.)
So what kinds of things would a career coach address with you?
Confidence – Most of us need more confidence. Confidence is what gives us the strength to contact a hiring manager directly, ask our boss for a raise, go for the promotion, or go after a new job. It really affects every area of our lives.
Networking – If you're like most people, you hate networking—but like most people, you need it. A coach can help you with strategies and perspectives that make you both more comfortable and more successful.
Resume and LinkedIn profiles – These are often the first impression that employers, recruiters, or others have of us and they need to be stellar.Are you getting contacted about jobs? If not, you have a problem. A coach can give you a candid, objective review and suggest ways to improve these critical pieces so you can meet your goals.
Social media skills – Your online presence has become a critical factor in your career or job search success. A coach with social media expertise can give you an appealing, professional, effective presence that opens up many opportunities for you.
Interviewing skills – Most people aren't great at interviewing, unless they do a lot of it. However, it's very important for you to get good at it.The smallest words and phrases in interviews can have big effects on the outcome. Every interview answer is a chance for you to sell yourself for the job.Working with a coach can make sure that you are making the most of every second in that conversation.
Transitioning to a new career field – This can be tricky ground for many of us—new graduates, veterans, and those of us switching careers can have communication issues with our new industry that can keep you from getting the job.A coach with expertise in that area can lift you past obstacles and issues so you move smoothly to success.
Building new skills – Some skills are becoming more and more important in a wide variety of fields. For instance, project management and process improvement are two almost universally valuable skills. A coach with experience in those areas can help you get up to speed as soon as possible, so you'll be more marketable.
Negotiating salary and compensation packages – This is something many job seekers are terrified of. You don't want to take less than you can get, but you don't want to lose the offer, either. An experienced coach can guide you through the process so that everyone's happy.
These are just a few of the things a career coach can help you with.
The best part is that a coach can work with you on exactly what YOU need.
Maybe you're great at everything except for networking.
Maybe your fatal flaw is that you don't express yourself as well as you should, so your boss doesn't have confidence in you.
Maybe you are afraid to negotiate for a higher salary or more benefits.
It could be any number of things.
When you have an expert working with you, you gain a huge advantage in your career and your life.
It changes the way you see things around you and changes the way you see yourself.
That is incredibly powerful.
For these reasons (and too many more to list) I absolutely believe in coaching.
I've seen how I benefited from it myself, and I've seen what a difference it's made to a huge number of people.
If you're interested in coaching for yourself, I'd love to work with you.
Find out more about my special offer for personal 1:1 coaching or my group coaching membership that meets online Thursday evenings at 7:00pm CST!