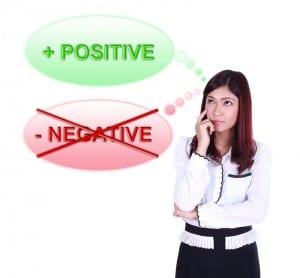 Job searching can be tough. It's easy to become frustrated and discouraged, and lose your confidence. As a career coach, I've found that almost every job seeker I speak with needs a positive attitude boost along with the resume or interview situation they called me about.
Staying positive during your job search is not just nice—it's necessary. Negative thinking slips into your speech and your actions, derailing you in many different ways. Positive thinking helps you feel better AND get hired faster.
I found a great article from Mark Tyrrell on How to Stop Negative Thinking in 7 Simple Steps that I want to apply to your job search to help you stay positive. We're going to look at Mark's steps one at a time, with our job search goggles on.
So here is Part 1 of my 7-part series, How to Stop Negative Thinking and Stay Positive in Your Job Search.
Step 1 – Stop thinking in extremes
Mark says that negative thinkers tend to view anything bad in an extreme way (all or nothing thinking). For example, instead of "I'm nervous about my speech," or "I may flub a line," you think, "I'm going to bomb this speech and everyone will hate me."
In a job search, this thinking looks like this:
Instead of, "I didn't get that interview," you think, "I must not be good enough to get an interview. I'll probably never get an interview on my own."
Instead of, "I didn't get that job offer," you think, "I'm terrible at interviewing and no one will ever hire me."
The TRUTH is that just because you didn't do as well as you wanted to in the past, doesn't mean that you can't make a change and do better in the future.
Karen had 18 interviews over 11 months and didn't get the job offer in any of them. Was she doomed? Of course not. She learned how to improve her interview answers, did a much better job on the next 2 interviews, and got hired.
I am happy to report that I have landed a job with the State of Idaho, administrative support in the International Business Division. Thank you for all of your support, encouragement, and for providing the tools necessary to put into the full-time search effort.

I originally found Peggy's videos searching on You Tube. A month or so prior, I had blown a second interview on an inside sales position…Simply the deer in the headlights syndrome for some of my behavioral interview answers.

Being depressed about this for weeks, I mean laying around in my PJ's, dazed and in a real funk. I finally got out of the pity party and found your videos, ultimately leading me to sign up for Total Access Coaching, which has really made a difference, and so worth the investment.

I feel so much more confidence and felt hope, that there would be light at the end of the tunnel. After almost a year of unemployment, the rejection can wear on you. I had 20 interviews over 11 months, but only felt I did a great job on the last 2 of them, thanks to my study of your materials.

Attitude is everything! My resume was okay (it was generating interviews), but I did tweak it with more keywords based on your suggestions. What really helped was studying my answers to questions and practice. It's really amazing – you know yourself, but putting it into words when you're nervous and so much is on the line, is really difficult. It was nice to hear you say that I wasn't the only one that was having this difficulty.

Thank you again for all you do and sharing your knowledge. I will spread the word and share my good fortune of discovering you.

Karen Parnell
Karen's story shows us that even in the face of 18 rejections, things can change for the better. Job searching, resume writing, and interviewing are skills that most people don't use on a regular basis. Sharpen your skills and you will see a positive result.
If you know you need help to sharpen your skills, attend one of our free job search webinars this week. In each one, I spend the better part of an hour telling you what you need to know and do in order to be successful.
If you need more specific help right now, find your solution below:
———–
See the other posts in this series:
How to Stop Negative Thinking and Stay Positive in Your Job Search – Part 2
How to Stop Negative Thinking and Stay Positive in Your Job Search – Part 3
How to Stop Negative Thinking and Stay Positive in Your Job Search – Part 4
How to Stop Negative Thinking and Stay Positive in Your Job Search – Part 5
How to Stop Negative Thinking and Stay Positive in Your Job Search – Part 6
How to Stop Negative Thinking and Stay Positive in Your Job Search – Part 7