Job Interview Question
Where do you see yourself in 5 years?
How To Answer Interview Questions Series
Table of Contents
Click to expand question sets, then click individual questions to read the post.

In other words, are you going to bail on them in a few months for another job, or are you going to stick around and make their training and investment in you pay off? Is this a stepping stone on your career path, or is this a job to pay the bills until you can do what you really want to do?

This is a tough job interview question.  It's very difficult to predict that far ahead, and plans change anyway.  And it's hard to know what they really want to hear.  They do want to hear that you plan to stick around for a while and grow and develop with the company.  If you're an "over 50" candidate, don't say that you'll be thinking about retirement.  You want to give the impression that you are still looking forward to learning and growing and working, not looking forward to golf.

Many, many people believe that the best answer is some version of:  "I see myself in your job!" or, "I want to be in management" because they think it shows ambition. That is not always the best answer.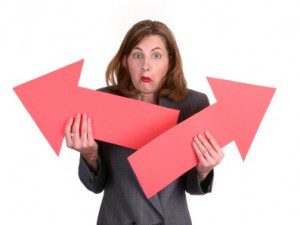 If you are interviewing with a very large company, it might be just fine for you to talk about your desire to be promoted and to grow within the company.  There's room for you to do that in a large corporation.
But if you are interviewing with a smaller company, an answer like that just might be considered a threat to that person's job.  If they don't have anywhere to go, they're certainly not going to let you push them out.
A much better answer (in both situations, really) is to say something more along the lines of "I want to grow and develop my skills," or "I want to be all I can be." You can talk about how you look forward to greater responsibility as you learn more about the company, and that you hope to be ready to do more things.
Then you can say, "if you are looking at me for a management position at that time, I would be interested in it, but that's not necessarily my end goal.  What I really want out of this is to learn, to grow, and to contribute in a meaningful way."
There is no hiring manager who won't be impressed by a strategic job interview answer like that.
———————————————————–
Ace your interviews! Watch my free webinar on Perfect Interview Answers!
Discover the best interview answers, critical mistakes to avoid, and an interview hack that will seal the deal. Interview for any job with confidence!