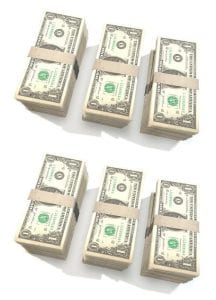 I wanted to share this with you to encourage you in your job search. If you're reading job listings and wondering how you're going to get hired, or if you're applying for jobs and getting no response, this is for you.
Tim had only a high-school diploma and was 56 years old. He applied for many jobs online but didn't get any interviews from that and he was terrified.
Did he have to go back to school? Did he have to take a lesser-paying job? No and No.
He only souped up his job search and interview skills – and got a 6-figure job offer! It's a great story:
Hi Peggy,

I just wanted to touch base and offer a great big "THANK YOU"!!

I purchased one of your inclusive [job search tool] packages a few months ago… I [also] attended several of your online seminars and did my best to absorb and learn all the new information. I updated my LinkedIn page and set to work networking.

Being 56-years old with only a high school diploma… I was terrified reading all of the ads… it seems employers were only looking for young people with a college degree. Yes… I was applying online again and again with absolutely zero results.

I was contacted by a business associate who asked if I would send them a resume. They had a company in mind that they thought might be a good fit. THE NEXT DAY I was invited in for an "informal" visit. I was asked to come back for a second interview.

At the end of the second interview I furnished them a "30-60-90 Day Action Plan". I was nervous about not having a formal degree but he told me that I had a tremendous amount of "life experience".

Today I received a phone call. I was offered a SIX-figure salary with a full benefits package!! They were so impressed with the 30-60-90 Day Action Plan… he said "that's just the kind of thinking we need in this position, I knew you were the right person for the job".

When I broke the news to my wife… she started crying…which started me crying. It was beautiful!

By the way… this job was not posted. It was a position the company had been thinking about for nearly 2-years. They were just waiting for the right person. Thank you and God Bless!

Sincerely yours,

Tim Y.
I love Tim's story and I'm so glad he sent me this wonderful note! Congratulations Tim!
I want a note like this from you about your own success!
I invite you to attend on of my free online job search training webinars for insights and tips that will improve your search.
Use the tools that Tim used to get this great offer:
Find unadvertised jobs, contact hiring managers and get interviews with my Hidden Jobs Finder.
Knock their socks off and secure the job offer of your dreams with a 30-60-90-Day Plan.
Best of luck!