Whether you hate networking or love it, you have to do it and do it well if you want to get hired or move up in your career. I've seen stats that say anywhere from 70% – 85% of jobs are found through networking. The good news is that it can be easier than you think. Here are 5 sometimes overlooked but extremely effective job search networking tips you'll love.
Ask for Information
One of the biggest networking holdups for job seekers is the idea that you're going to call someone up and ask them to help you get a job. You feel like you're asking for a really big favor and it's just too much. The truth is that people who do networking badly might do that, but you don't have to.
One of the most effective things you can do is simply to ask for information. For example, new graduate Scott contacted someone he was connected to on LinkedIn (but didn't talk to in school). The contact had just gotten a job, and Scott asked a few questions about that company. A few days later, the contact told Scott that her new company was hiring—and he ended up getting a job. (See the longer version of his story here.)
Does that always happen? No. But if the worst-case scenario is that you get information you can use, then that's definitely something you should try. It might lead to a job.
Contact People You Haven't Talked to in Years
What most job seekers don't realize is that their network is much larger than they think it is at first glance. The reality is that your network is everyone you've ever met.
Debbie reached out more than most job seekers would. She contacted someone who'd come into her office as an auditor several years before. Within days, she had a job offer. See how she did it here.
Let Everyone Know You're Looking
Everyone you've ever met in your life should know you're looking for a job. That includes people outside your work life. Why? Because people outside your work circle know people you can't know. Your cousin's husband may know the perfect person for you to call. I know people who've gotten jobs through their coffee baristas and other moms at their child's school. You just never know.
Make the Most of LinkedIn
LinkedIn is an incredibly effective way to expand your network and uncover job leads. To make the most of it, you need a great profile and an active presence. With those, recruiters and hiring managers can find you. Join groups and participate in discussions so that people get to know you. You can even ask to connect to people you have something in common with. On top of that, you'll have lots of easy ways to touch base with your connections, whether it's commenting on their articles or offering a quick congratulations for an achievement.
Make the Effort for a Personal Touch (It's Easier Than You Think)
You can have a strong and vibrant network ready to help you at a moment's notice. How? Keep it healthy with regular personal contacts. Here's how it works: Every 3-6 months, send each of your contacts a quick email. (Here's what your email should say.) This keeps you top of mind for them. Even though this won't take you much time, it's exponentially more effective than simple status updates on social media.
More Networking Tips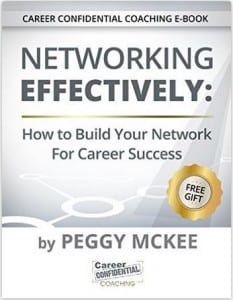 Networking is one of the best things you can do for your career. Learn how to do it effectively and efficiently in my book, Networking Effectively: How to Build Your Network for Career Success, available on Amazon.
Among other things, you'll learn how to :
Network Genuinely and Authentically Without Painful Small Talk
Reach Out to People You Haven't Spoken to In Years Without Any Awkwardness
Handle Explaining a Job Loss
Write a Great Email to Everyone in Your Network (Includes Samples)
Grow Your Network by Leaps and Bounds
Network on LinkedIn Without the Mistakes Most People Make
Manage Aggressively Growing Your Network If You're an Introvert
Don't wait. This is too important. Build and strengthen your network today.