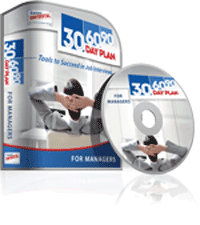 Are you interviewing for a management role?  To win it, you need to show Strategic Thinking and Leadership.  You need to communicate at a more significant level than ever before to show who you are and what you're capable of.
Set yourself apart with a Management Level Interview Plan that gets Job Offers (sometimes in MINUTES).
We are proud to announce our brand-new 30-60-90-Day Interview Plan for Managers!
See more about how a 30-60-90-Day Plan gets Management Level Job Offers.
Our plan contains 10 Job-Winning Templates, 10 Example Plans, and 10 PowerPoint Plans that will save you days and even weeks of time researching and evaluating what goes into a successful plan.  With the plans, you get expert coaching on how to use a plan professionally and successfully.
The template and the training together are so comprehensive that if you had a job interview tomorrow, you could get my plan today, spend some time with it and your company research, and go on to have the best interview of your life.