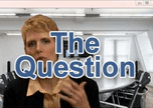 The better your interview answers are, the more likely you'll get the offer.  To make that happen, practice your interview questions and answers.
We've developed a ridiculously easy way for you to do this:
Job Interview Questions and Answers VIDEOS
Videos give you something written answers don't:  tone, inflection, and other subtleties that make a big difference in the quality of your answer.  Not everyone learns the same, so videos may be just what you need to develop perfect interview answers.
99% of the job seekers (more than 270,000) who have experienced these say that they improve their interview answers immediately.
You have to try this.
In total, there are 50 different videos--and, you get the first 5 answers free!  (See the first 5 interview questions and answers here.)
Click the link below to go to the page and check it out: