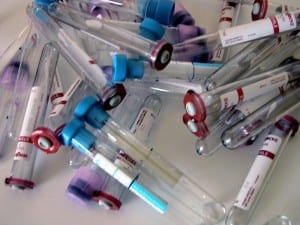 Perhaps you fell in love with phlebotomy the first time you donated blood, or maybe needles were always fascinating to you. Whatever the case may be, looking into phlebotomy classes is no small chore. Phlebotomy jobs are supposed to increase by 27 percent over the next 7 years according to the Bureau of Labor Statistics, which makes for an exciting time to jump headfirst into this exciting field.
Below, we've outlined some key things anyone should consider when looking into where to take phlebotomy classes.
Additional Training
Some programs throw in CPR training with the phlebotomy classes, whereas others offer a comprehensive curriculum geared toward phlebotomy and medical assisting. Even if you just want a basic knowledge of what it's like to be a phlebotomist, you'll be better served to attend a program that teaches you more than just how to stick a needle in a dummy arm.
Tuition
It is not uncommon to see tuition prices range from extremely reasonable to highway robbery. The more research you do into different phlebotomy classes the better idea you'll have as to whether a program looks like a scam or not.
Equipment
You should look for phlebotomy classes that use modern laboratory equipment to teach students. Equipment like microscopes, examination tables, centrifuge, platform scales, simulated arms for venipuncture, stethoscopes, medical instruments, anatomical charters and organ models should be involved in the hands-on curriculum.
Lecture and Lab Hours
It's important to find out just how many hours of direct instruction or lab time you'll be getting for your money. Some programs claim to give you all the skills you need in four weeks while others offer programs lasting three quarters or longer. Knowing the amount of hours or time each program dedicates to learning the practice of phlebotomy will help you evaluate the academic commitment they're seeking versus the commitment you're able to give.
Flexible Class Schedules
Attending school can be difficult to manage if you have to do it on the side. Maybe you can't afford to quit your day job right now, or you're interested in starting a few months down the road. Make sure the courses you look into offer evening classes and find out how often new classes start
Is there an Externship?
A quality phlebotomy program will offer an externship experience following the course. These programs usually last anywhere from three to six weeks and give students a chance to gain real world experience in a live clinical setting. No matter the phlebotomy program you choose, make sure you ask about the types of places students have ended up in the past, and how the career service team works to line up students with compatible externship roles.
Keeping the above things in mind when looking into phlebotomy classes will help you make the most informed decision possible.