Hit Your Job Search Target with Perfect Interview Answers!
Did you know that, no matter what career field you're in, employers are listening for certain words, phrases, and concepts in your interview answers? If you don't say what they want to hear, you won't get the job.
We want you to get hired, so we put together a
free training webinar
to help you. In this webinar, you'll learn
perfect interview answers
 that you can adjust and adapt for your interview, for
 any job in any field.
These answers include the
"magic words" that unlock job offers
. You'll learn:
Perfect answers for the 4 most common interview questions
How to relieve the hiring manager's 4 secret fears about you
An interview technique that will make them more likely to hire you
We've received some excellent
feedback about this webinar
, so I know you'll love it.
I put together a video for you that explains more about the webinar.
Watch it here
.
Don't go to another interview without this information!
Register for my Free Perfect Interview Answers Webinar Here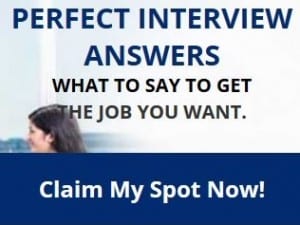 Plus...during the webinar, ask me your most pressing job search or interview question and I'll tell you what your best solution is.
I look forward to seeing you in the webinar!
Best of luck!