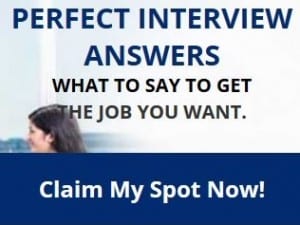 Are you considering attending my Perfect Interview Answers Webinar?  See what Matt had to say about how it helped him be more confident and advance through the hiring process:
I thought the webinar was extremely well done. I have been using a lot of the recommendations that you discussed in my Job Acquisition phase that I am currently in.

I was laid off ...from a company I spent the past 23+ years with. Needless to say I had not interviewed other than various promotions within the company I had been with for a number of years.

I have had 5 interviews with a company that I am currently pursuing and am scheduled to fly to their home headquarters ... to meet with their CEO, COO, CFO, Chief Marketing Officer and Chief Clinical Officer.

The timing of the [webinar] yesterday could not have been better for me as a refresher and I plan to use a lot of what was presented yesterday for my interview on Friday and am feeling very confident.

Thank you,

Matt
My Perfect Interview Answers webinar is designed to help you 'wow' them in your interview.
This is a free webinar where I coach you on how to deliver perfect interview answers to 4 of the most important interview questions, and give you insights on how to communicate with the hiring manager (interviewer) stronger and more effectively than ever before.
You even get a chance to get personalized expert advice in a free Question and Answer session!
With what you learn in this webinar you will have a big edge over your competition and you can get the job offer.
Find out more about this webinar and sign up to attend:  Perfect Interview Answers