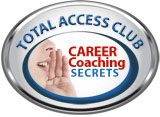 I received this fantastic email from a TAC (Total Access Coaching) Club member:
WOW, you did it again!   Since signing up for CC job seeking advice, I have been offered THREE positions.  Yes, that's right, THREE positions!  I followed every word of your advice and it produced the results for me.

Thank you from the bottom of my heart.  It was the best investment I've ever made in myself!

- Connie B.
I love that Connie talks about investing in herself.  We all need to invest in ourselves with knowledge, tools, or effort to be more, stronger, and better than we were before. Investments in yourself pay off. It paid off for Connie in 3 job offers.  Imagine having a choice of 3 job offers!
What's TAC?  Total Access Coaching Club is (basically) all of Career Confidential's tools combined with direct, biweekly coaching from Carl and me.  It's the ultimate job search success toolkit.  Check out TAC here.