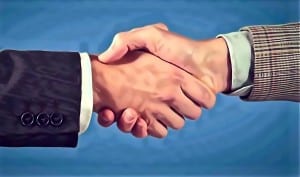 Bill, "Teddy, I network my network so that my net works."
Teddy, "How do you make that happen Bill?"
Bill, "It's hard to do. Do you have any suggestions?"
We talked some more before I decided to write this article.
Some people network looking for an opportunity, a prospect, a deal or maybe a job. I stopped doing this years ago.
As I network at events I've experienced people searching for a quick sales opportunity, asking to be introduced to my network before we know each other or giving me 4-5 business cards to hand out to others when I can. I won't participate in this.
I network to create connections and build relationships. All that other stuff, where appropriate, happens afterwards.
Ask any Successful Networking Professional who has long term clients, a good pipeline and enjoys their job, and you'll find they do the same, they "Network for Mutual Benefit."
Here are the Top 10 traits of a Successful Networking Professional:
They know networking is all about creating connections and building relationships, not selling.
They start every conversation with a question about the other person.
They know nurturing relationships is how you expand your network and discover new opportunities.
Learning about the other person is priority number one to them.
They know giving with no expectations is a powerful way to build relationships and relationships are needed to discover opportunities.
Meeting people who are nothing like them is a great way to make their network diverse and dynamic.
They know they can't ask for anything until they get permission, and permission happens when you focus on the other person first.
They reach out to the people from their past to reconnect and rebuild their relationships where relevant and possible.
Meeting just a few new people at an event has proven to be a better use of time.
Following up and continuing to learn about their network is how they have found some of their best connections and opportunities.
Bonus Trait – When they can, Successful Networking Professionals will work to make an In Real Life (IRL) connection also a Social Media connection and vice versa.
Successful Networking Professionals have learned networking is not about selling. They have discovered it's about making new connections, building new relationships and helping others so that you become a trusted and respected resource.
Successful Networking Professionals know their network is one of the most valuable assets they have. They will never use their network inappropriately or squander it's value away for any reason.
They have learned that when they focus on creating relationships, their network will work for them by connecting them to even more people. Often the people who not only need their products or services, but also who can connect them to even more people.
Being trusted and respected are two attributes Successful Networking Professionals have that will significantly enhance the sales process.
Work to become a Successful Networking Professional and your network will work for you.
If you want to learn more Networking Skills read my book Networking for Mutual Benefit.
If you need coaching on LinkedIn so that you can manage your networks better, consider my LinkedIn Coaching Program.
* This post was written by Career Confidential LinkedIn Expert Teddy Burriss of Burriss Consulting, Inc.  Follow Teddy Burriss on LinkedIn, Twitter or Facebook to learn more about his Social Media Coaching and Career Transition services.