Job Search Tip
Trade Shows
Fastest Way to Find a Job Series
Table of Contents
Click to expand question sets, then click individual questions to read the article.

Trade shows can be fantastic, rich resources for the aggressive job seeker.  They are full of real, live contacts from a concentrated selection of companies in your field.  You may not come away from the show with a job, but you very well could come away from the show with a valuable contact within that company who can point you to the hiring manager you need to be talking to.  To make the most of these opportunities, prepare before the show, have a strategy to follow during the show, and follow up after the show.

Before the Show:

Email your contacts to let them know that you will be at the tradeshow and that you are looking for contacts because you are looking for a new position as a (whatever it is).  Maybe some of them will be able to give you the name of someone who will be there that you should talk to.

Update your status on Facebook, LinkedIn, Twitter, Google Plus, or whatever you're on to let everyone know that you are going to the trade show.

Research the companies who will be at the trade show.  Being well-informed about the company will be impressive to whoever you talk to.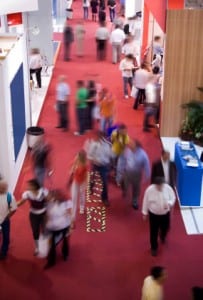 Set a goal to speak with a certain number of people, hand out a certain number of resumes, or have a certain number of meaningful conversations.  Once you get to the show, it can be overwhelming.  If you set a goal ahead of time, then you have motivation to do what you set out to do.
Choose a great outfit.  You will be meeting many people for the first time, and they should have a favorable impression of you.
During the Show:
Use all the time you have available.  Go early and stay late.  Make the most of this opportunity.  You can even make arrangements to meet with people after the show.  If you can get a meeting with them away from the booth, it's like having a personal appointment.  It's amazing.
Make conversation.  Don't walk up and ask the exhibitors if their company is hiring.  Strike up a conversation.  Ask what they do at that company.  You can work your way into saying that you're looking for a new opportunity.  If they can't or won't help you (maybe they're just a temporary helper), ask them who you should be talking to.  They might very well know who's hiring, even if it isn't their company.
Respect their time. The exhibitor is there for a reason, and it's not to look for new hires.  Don't interrupt a conversation he's already in. Wait until there's a break.  Have your elevator pitch ready to go so that you can introduce yourself succinctly and well.  All you have to do is say something like, "My name is John Smith and I am looking for a position as a (whatever your job is).  My background is in X, Y, Z and I think your company could really utilize my skill sets.  Do you know of any opportunities that would fit?" Don't expect a big, warm welcome from them.  You're kind of putting them on the spot and they're busy.  What you're looking for here is either "You need to talk to so-and-so," or "Oh, OK, do you have a resume?"  If they ask for your resume, have it ready to give them, folded neatly into a standard and easily transportable #10 envelope.  Don't forget to ask for that person's business card, so you can get their name and email address, because you'll be following up with them later.
After the Show:
Follow up.  It won't matter how many people you talk to if you never speak to them again.  Make another contact after the show. Send an email with your resume attached that says very clearly, "I am looking for (whatever it is).  If you need someone with X, Y, and Z skills, call me.  If not, do you know of anyone who might be interested in someone like me?  Feel free to forward my information, or give me the contact information and I will take care of it. Thank you in advance for your help."
Do you need a new job fast? Discover the most effective job search method ever in my free webinar, Get a Great Job in 6 Weeks.
You'll get powerful strategies for resumes, cover letters and networking to find hidden jobs and get more interviews.