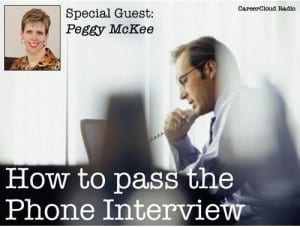 Get ready to ace your phone interviews in 2015!
Listen to this 30-minute Career Podcast I did with Chris Russell, founder of Career Cloud:
How to Pass the Phone Interview (with Peggy McKee of Career Confidential)
These are fantastic phone interview tips for:
The most important question to ask yourself before your phone interview
The most important phone interview questions to be ready to answer (and how to answer them)
How to build your confidence and prepare for your phone interview
What questions you need to ask during the phone interview that will help you get the offer
How to know the phone interview went well so you can move to the face-to-face
Listen to How to pass the Phone Interview now.
Thanks, Chris!  I had a great time. You are an awesome interviewer with a great website!