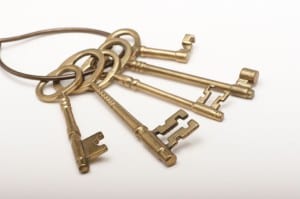 Are you in the search for an executive job?
[See this Executive Job Search report]
With 15 years of executive recruiting (in the medical sales and marketing arena) and over 5 years of coaching folks around the world (Thailand, England, France, Russia, Singapore, UAE, Mexico, Canada, Australia, New Zealand, South Korea), I've worked with executives at all levels, in all kinds of industries—from CEOs of big banks to CTOs of companies that have hundreds of thousands of SKUs to the VP level, Director level, folks who are in every area of the company (finance, operations, sales, marketing, customer support, IT, etc.).
From this experience, I can tell you that there are commonalities that you can use to have much greater success in your executive job search and your career:
You must MARKET Yourself  -  Your resume really must 'sell' you.
You must REACH OUT to Others - In your network, outside of your network, and especially to executive recruiters.
You must Be AGGRESSIVE - Let people know you are looking for a job or they won't contact you.
You must PRACTICE Before Your Interviews - Even though executives are wonderful at speaking about their product at their company in their area of expertise, they are not as good at speaking about themselves and they get into interview situations where they are not as prepared as they should be…so practice, role play, hire an interview coach, check out our books on Amazon. Be as prepared as you can possibly be. (Think about preparing yourself for this job search and interview process as much as you would prepare your company for some transition.)
You Must Keep Your MENTAL GAME Where It Needs to Be - Don't say negative things to yourself that you wouldn't say to a member of your team. Communicate positivity. Put up notes reminding you of who you are and what you've done (in your car, on your bathroom mirror, in your books, on your computer). Use neuro-linguistic programming (this is code for "talk to yourself in positive, direct, and forward-looking ways") to help yourself achieve your greatest level.
As I said, I work with executives all the time.  What I have found is that as a group--as experienced and as competent and even as innovative as you are in your job, there's a lot you don't know about getting a job, especially one that fits you and offers you what you deserve.  That's one of the reasons that statistics say that you will spend 1 month in the job search for every $10,000 you earn.  I wouldn't want to wait that long, and I suspect you don't, either.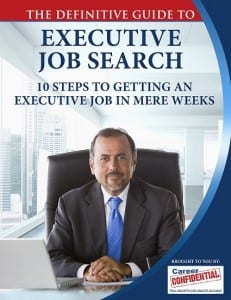 To help you, I have put together a Guide to Getting an Executive Job that I am giving away at NO cost.
My hope is that it will help you think of things you haven't thought of and create opportunities for yourself that you wouldn't have done otherwise.
I am very excited to let you know about this and I look forward to your feedback. (Email me at Peggy@CareerConfidential.com.)
Download Your 10 Steps to Executive Job Search Success Now.