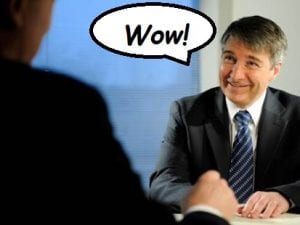 Dan had been in sales 30 years, but was let go. He had been in the job search for about 9 months, and then he came to one of my free training webinars and learned that he should take a 30 60 90 day sales plan to his job interviews.
He'd never thought of bringing a plan to an interview before, but he prepared a plan and got a 'Wow' out of the interviewer–and had an offer within the week.
The plan even gave him more confidence starting his new job.
Check out Dan's story and see why you need to bring a 30 60 90 day sales plan to your next interview:
Peggy,

I just want to thank you for your time and expertise, especially the 30-60-90 plan. I had an interview scheduled on Monday, heard about your company on the previous Monday.  I have been in sales 30 years but was let go in a business change. Sales plans are nothing new, I just hadn't taken one into an interview.

I attended a free webinar on Thursday, began building plan that evening, finishing and polishing thru the weekend. I came out of the interview flying. The hiring manager literally said "Wow" when I handed him the plan as part of my close. I met with the corporate sales manager on Wed, got a verbal offer on Friday. I am wrapping up my first week with the new company. Maybe the best thing is the confidence I have going forward because I have a plan.

Thank you, it works!

Dan W.

Ag Sales Consultant
Career Confidential offers a perfect 30 60 90 day sales plan template along with video coaching for how to research the company for your plan, introduce it in the interview, and close for the job.
See reviews for our 30 60 90 Day Sales Plan here.