If you've ever wondered whether a 30-60-90-day plan could help you in your job interviews, see our 30-60-90-day action plan reviews! Here's what 3 happy customers had to say:
I was offered a higher paying position than the one I applied for
"The 30/60/90 Day Action Plan is incredible! The very first time I used it I was offered a higher paying position than the one I applied for. That was ONE interview! I haven't even had a chance to try it out on any other potential employers, because I GOT THE JOB immediately!! The best online tool I have ever purchased, and [Career Confidential's] follow-up support is stellar." – Scott R.
Offer: 6-figure salary with full benefits
"I just wanted to touch base and offer a great big "THANK YOU"!!….Being 56-years old with only a high school diploma…I was terrified…it seems employers were only looking for young people with a college degree….I was contacted by a business associate who…had a company in mind that they thought might be a good fit…At the end of the second interview I furnished them a "30-60-90 Day Action Plan"….Today I received a phone call. I was offered a SIX-figure salary with a full benefits package!! They were so impressed with the 30-60-90 Day Action Plan… he said "that's just the kind of thinking we need in this position"…When I broke the news to my wife… she started crying…which started me crying. It was beautiful! … Thank you and God Bless!" – Tim
instantly establishes credibility and conviction
"Recently I was considered for a newly-created EVP role …that blends strategic planning, marketing and business development. The job not only demands expertise in those areas, it requires synergistic thinking for all three disciplines simultaneously. I am now in that job… EVERY interview panelist noted the foresight and detail that went into my 30-60-90 day plan…the organized sequence and logic…is clearly more understandable, believable and persuasive. It instantly establishes credibility and conviction. And by the way, it works wonders as an on-boarding guidepost to facilitate rapid learning and job effectiveness. Thank you again — I realize the folks participating in your webinars and workshops need "permission to believe" this can work for them. Please assure them IT DOES." – Don
Get a 30-60-90-Day Action Plan for Your Next Interview
Don't go to one more interview without everything you need to get the offer. Take control of your interview success when you bring a 30/60/90-Day Action Plan.
Our plan transforms your interview into a positive conversation about what life will look like with you on the job. Use the plan to demonstrate your drive, enthusiasm, and professionalism, and convince the hiring manager that you're the one to hire. Because few job seekers are willing to go the extra mile it takes to do something this special, you truly shine. Even if you've never worked in this field before, this preparation proves that you know how to do the job.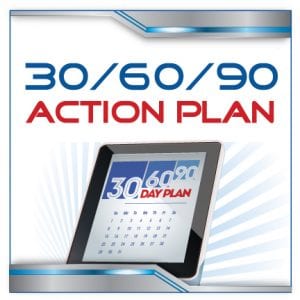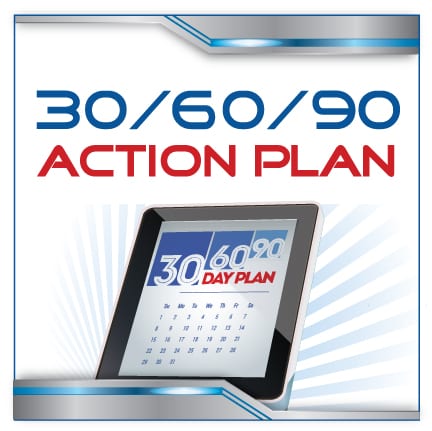 Our 30/60/90-Day Action Plan is designed for any white-collar professional, and adaptable to any industry. This kit makes a labor-intensive process very easy! It walks you through every step to creating a plan, from where to find the information you need, to what to say when you show it to the hiring manager.
Find out exactly what the best plans include
See examples of what your plan should look like
Take advantage of a fill-in-the-blank template to make the process easy
Customize the PowerPoint template for a slick presentation
Hear the exact words to use when talking about the plan
Learn how to use it to ask questions that give you critical information for the job
Use key phrases to guide the interview and ask for the job
Even incorporate your plan into a strategic follow up
This kit focuses on the practical, "how to" steps to creating one of the most powerful interview tools ever, making a difficult, time-consuming task super-easy. It can guide you to a complete job-winning plan in less than an hour.