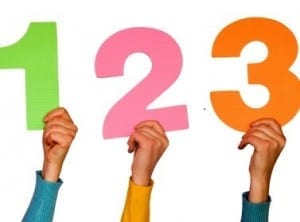 Recruiters and employers sift through stacks of resumes very quickly, so your resume needs to grab attention fast. What makes a resume stand out and get you the interview?
First, your resume must be easy to read (bullet points, not paragraphs) and error-free.  Mistakes will get your resume dumped fast. Beyond these basics, here are 3 simple ways to rev up your resume:
1 – Quantify Your Accomplishments
Sales resumes should absolutely, without question, show your performance numbers–sales numbers, rankings, etc.  But even if you aren't remotely connected to sales, quantifying your accomplishments (using numbers, dollars, and percentages to describe what you've done) will grab attention and show that you'll be a great asset.  (See How to Write a Resume That POPS)
2- Write a Good Objective Statement
Don't believe the "Summary" hype.  A summary just repeats what they can see in the rest of your resume.
A good objective statement will capture the reader's attention and lead him or her into reading the rest of your resume. (Think 'elevator pitch,' so that it's compelling.) Tailor your objective statement to the job opportunity so that you can highlight what you can bring to that particular organization. If there's not a specific job, broaden your statement but still make sure it says what you want and sells you. The key is to keep in mind what THEY need more than what YOU want.
3- Add Something Special
Job Shadowing
If you're an entry-level candidate, try a job shadowing experience and put it on your resume. Besides giving you resume keywords, this shows that you're serious, and willing to go the extra mile–and it can go a long way toward overcoming your lack of working experience.
Quotes
I have seen resumes with quotations that sum up their attitudes, drive, determination, etc. These can be impressive–but don't overdo it.
Recent Reading
You might list recent reading material that pertains to the job or career field (make sure you can speak intelligently about what you've read). This shows enthusiasm, intelligence, and motivation.
Warning:  Be careful about providing too much information–for instance, don't list hobbies unless they're relevant to the job or somehow speak to your energy level (great for sales jobs).  Overall, don't let anything on your resume take away from your message: you have something to offer to contribute to an organization's success.
Remember that your resume is not about you; it's about the employer. Use your resume as a marketing document that highlights why you're the person to help them succeed.
Consider using our Extreme Resume Makeover Kit (with coaching and free review) to have an interview-generating resume in about an hour.