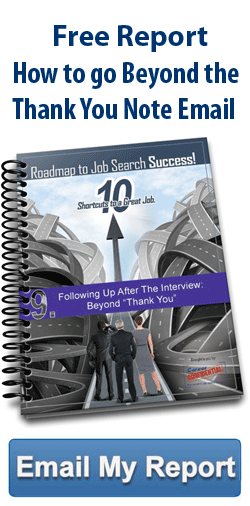 If your thank you note says, "Thanks for taking the time to speak with me.  I look forward to hearing from you," you are making a huge mistake that could cost you the job.
Just saying 'thank you' is what everyone says. It doesn't set you apart.  It doesn't remind them why they should hire you.
If you want the job, you need to keep selling yourself for it, even with your thank you note.
You can learn exactly how to write a really effective thank you note that keeps selling you for the job in my free podcast, Following Up  After the Interview.
In this free podcast, you will learn:
What to say to stand out and keep selling yourself for the job
When to send it (this is VERY important)
What to do AFTER you send it (I'll tell you when it's OK to email again or call)
It's pretty comprehensive, and you need to know this information if you want to stand out.
Fill out the form on this page and download my free podcast right now.