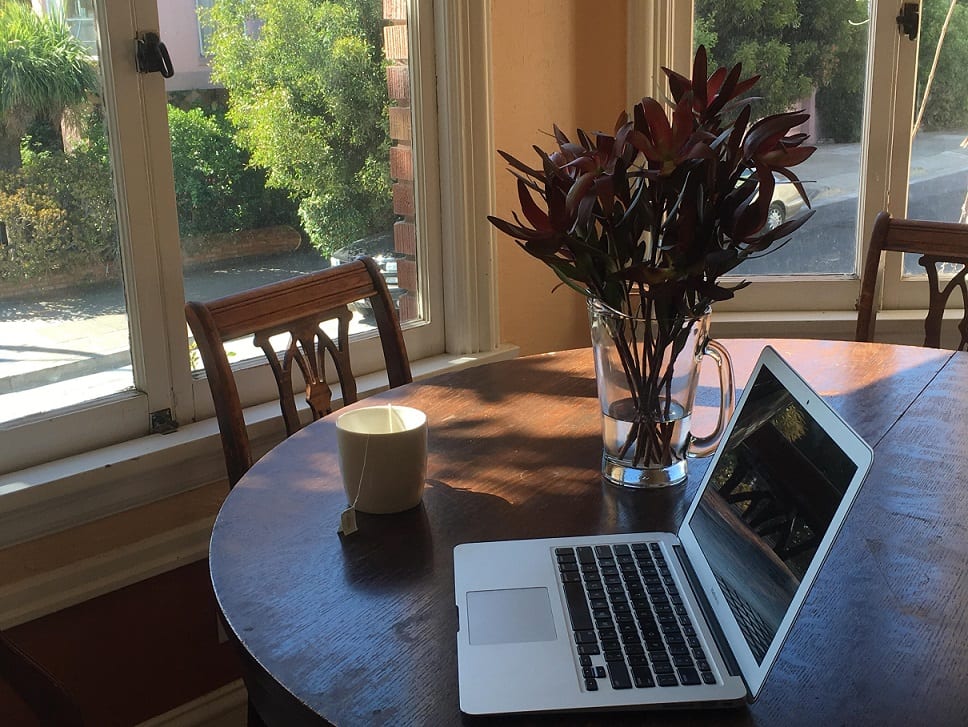 Susanne Jones, University of Minnesota Associate Professor of communication studies, says that about 65 to 75 percent of everything we communicate is non-verbal in nature, according to The Houston Chronicle. That means a lot of what you communicate gets lost in translation, which is not an ideal scenario for general conversation with friends or family, let alone a job interview.  It is important to be eloquent, precise and engaging with an interviewer.
However, what if the venue of the interview is not a sleek office, but your living room? Interview via video conferencing is very common these days. Its saves you time as well as travel cost. Most importantly, you get the opportunity to explore new job opportunities right from the comfort of your home.
Nevertheless, focusing on a job interview via webcam or video conferencing can be tricky, and you need to make some preparations in advance.
De-clutter or arrange the room
Remember that in a video conference the background of your room is still visible. Either select a neat corner of your house, or de-clutter or organize your room. A disorganized place may not set a good impression for the prospective employer. Although this may sound more like an assumption, it's best to be on the safer side and take adequate measures accordingly so that the frame of your interview looks presentable.
( Check out a comprehensive online or Skype interview guide on Amazon. )
Make sure that there is no distraction when the interview is on
While the interview is on, make sure that there are no distractions inside the room.  If the room is close to a busy road, shut the windows to keep unnecessary sound out. If you own pets (dogs or cats), ensure that they are out of the way. Either leave them in another room or ask a friend or neighbor to baby-sit the pet for few hours. Using a noise cancellation headphone with mic will also be beneficial for clear communication.
Check the hardware of the video conferencing system in advance
Check the hardware of the video conferencing system an hour before the interview is scheduled. A faulty hardware system can intervene with the quality of communication. Besides the hardware, make sure that the room in which you the interview will be conducted is properly lit. This is relevant for effective interaction with the interviewer.
Make yourself presentable
Although there is no need to pull out the best business suit out of your closet to attend the interview session via webcam--however, make sure you look professional and presentable. If your interviewer is in a different time zone, it's likely that your meeting will be scheduled either early morning or late in the night. Take note of that and prepare yourself accordingly.
Be mindful of your body language
You want to make sure your body language is cordial and appealing. Bad body language could end your prospect of landing a job. So here are some mistakes you'll want to avoid:
Crossing your arms. This is a sign that says you're defensive. So if you're answering questions about the results or viability of a particular project, you might want to take your arms down. Keep them to the sides.
Leaning forward. This can be seen as an aggressive stance. Go for a neutral one instead.
Not making eye contact. We all know this. If you want to give off an impression of being trustworthy and reliable, make eye contact.
Breaking eye contact too soon. Making eye contact isn't enough. You need to keep at it long enough. It's like a handshake. You must sustain the moment. If not, you could appear overly nervous or untrustworthy, says the Business Insider. That's the last thing you want to happen, especially if you're trying to inspire trust and confidence.
Nodding too much. It would be much better if you nod once and then remain still.
By being self-aware and knowing what your body language is saying is likely to leave a good impression on your interviewer. Thanks to video conference systems from teams like BlueJeans, connecting with prospective employers from any part of the world has become easy. Even in everyday work scenarios, video conferencing is very beneficial, for both onsite and offsite staff. That gets rid of costly delays that could hold up your production deadlines or delivery schedules. Your teams will also work so much better. With this help, you can foster deeper engagement among remote employees. Given the nature of the work, it's easy for remote workers to feel closed off and disengaged. That disengagement could cost your company a lot. With the help of video calls, you can keep in touch with your employees every day, all without worrying that the fees and charges are burning a hole in your funds. Cost-effective and efficient, video systems provide you with a great way to keep an eye on your team and make them feel secure, connected and appreciated as a valuable member of the team.