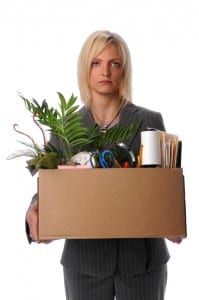 As a career coach, I talk to job seekers in difficult circumstances all the time.  One of the biggest problems that job seekers can face is that at some point, they were fired–for fault.  It wasn't downsizing.  It wasn't the economy.  They did something that caused the company to let them go.  If you were fired, you might think that your career is over–but chances are, it isn't.
Let's put a little perspective into this situation….do you remember the Vanessa Williams scandal?  Talk about a roller coaster of a career.  First African-American Miss America, very publicly fired and forced to give up her crown because of nude Penthouse photos, came back to be an incredibly successful singer/actress.
How about Bill Clinton?  President of the United States, very publicly disgraced because of his inexcusable Oval Office misbehavior with Monica Lewinsky, now gets paid millions of dollars for giving speeches, and even joined forces with George H.W. Bush.
So if you were fired…will you let that moment define you?  Or will you move on and turn it around?  If they can do it, you can, too.
***
PS – One of the hardest things about being fired is coming up with the 'story' to explain it.  You can tell the truth with different words and make a negative experience seem neutral or even positive. Get a career coach to help you find the language to explain an uncomfortable situation to potential employers.  You can overcome this and find a great job.
> Find out about how career coaching can help you <