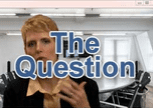 What are the best job interview answers you can give in your next interview?  Find out from an experienced, successful interview coach in free videos!
We have gathered 50 of the toughest job interview questions that I have answered for you in a video format:
Job Interview Questions and Answers VIDEOS
The videos allow you to hear tone, inflection, and other subtleties that make a big difference in the quality of your answer.  Not everyone learns the same, so videos may be just what you need to develop the best job interview answers you've ever delivered.
99% of job seekers (more than 270,000) who have experienced these say that they improve their interview answers immediately.
You have to try this.
In total, there are 50 different videos--and, you get the first 5 answers free!  (See the first 5 interview questions and answers here.)
Click the link below to go to the page and check it out: