Online interviews are gaining in popularity. If you're in the job search, it's important to know how to do these confidently and successfully, so you stand out from your competition.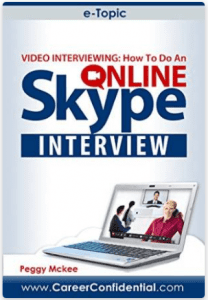 In this "Quick Read" Report, you will see how to:
• Download the Free Software You Need
• Set Up the Right Background, Lighting, and Sound
• Avoid BIG Mistakes
• Choose What to Wear
• Use the Right Body Language
In just a few minutes, you'll know how to video interview like a champ.
Plus—a BONUS SECTION: The first 5 Questions and Answers from the best-selling How to Answer Interview Questions II!
Get this report now:  Amazon – Skype Interview