How you answer "Tell me about yourself" sets the tone of the entire interview.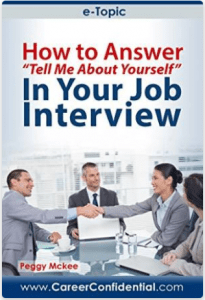 Your answer will either establish a positive bias toward you in the mind of the hiring manager—or it will show them you are not someone to be taken seriously for the job.
In this "Quick Read" Report, you will see how to answer "Tell me about yourself" in a way that says:
"I am skilled, I have accomplished some great things, and I can bring that to work here for you."
• How to Start
• What to Include in Your Answer (And What to Leave OUT)
• How to Make Your Answer Special So You Stand Out
You will bias the interviewer in your favor and boost your chances of getting the job offer.
Plus—a BONUS SECTION: The first 5 Questions and Answers from the best-selling How to Answer Interview Questions II!

Get this report now:  Amazon – How to Answer 'Tell Me About Yourself'