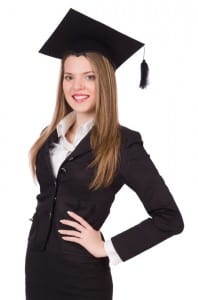 New graduates and other entry-level job seekers have challenges that are a little different from others:  you probably have a smaller usable network and limited job experience.
Here are a few job-hunting tips that will help you get on the road to success:
Use job fairs or campus recruiting events (but use them wisely).  Do your homework on the companies that will be represented at the event, so you know who you're talking to.  This is not the place to find out what they do...it's the place to introduce yourself to them.  Read this article in my Fastest Way to Find a Job series on How to Work Trade Shows and How to Use Career Fairs for tips on how to handle these bigger events with multiple participants.
Follow up. Within a couple of days, send an email to all company reps you gave your resume to.  Mention the job you're interested in and briefly say why you'd be a good fit.  Keep it short and sweet.
Sanitize your social media pages. Clean up Facebook, Instagram, or anywhere else you've got an online presence. Recruiters and hiring managers will check those out to find out more about you.  Make sure they're not shocked by what they see. Here's why you need to use Facebook in your job search.
Definitely get a LinkedIn page. It's the most popular business networking site out there, so it's the most effective use of your online time, if you learn how to work it right.  See my LinkedIn Profile Tutorial for setting up your profile to attract hiring managers and get interviews.
Learn to contact hiring managers directly.  Don't apply for jobs online.  It will be a huge waste of time for you because you won't stand out from all the other entry-level job seekers (there can easily be thousands of applicants for any given position).
Learn job search tips and skills.  Attend some of my free training webinars to learn what they didn't teach you in school:  how to get a job.