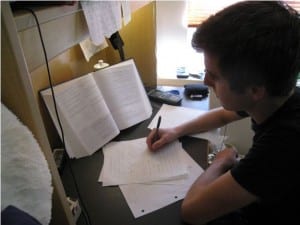 Interviews can be a nerve-wracking process. It is great to apply for jobs and make it to the interview stage. it shows that you have something about you that sets you apart from the crowd. This should instill confidence. But it is easy to let the occasion get the better of you when it comes to a job interview.
Many people are perfect for job roles, but they don't interview well and so end up not getting the job. Your CV is your calling card, but the interview stage is what makes up an employer's mind. his is way interviews are so important. Unfortunately there is no way around it, if you want to get a job the chances are you're going to need to interview.                                                                        Image Source
In the current economic climate, it is important to give yourself as many opportunities as possible. This means even going for interviews for things perhaps unrelated to what you want to do. You might be worrying about the kind of jobs you can get with you Philosophy degree or what you can do with an Exercise Science degree. But this shouldn't prevent you from taking opportunities when they come.
Here are some tips to help you make sure you interview as well as possible.
Relax
It's a cliche, but it is important to try to relax. If you stress over the interview, it will affect your performance on the day. You might find yourself stuttering over sentences. You may forget the information and seem shy or easily confused.
Trying to relax will improve your appearance and demeanour. It will allow you to speak in a clear and concise manner. You will find that your memory will be clearer too, and you'll come across as a more talkative and professional person.
Research Questions
The key to any interview is preparation. For this reason, it's vital that you research common interview questions. Pay particular attention to the more negative or difficult to answer questions. Once you know what they are you can plan a response, so you aren't caught out or tripped up on the day.
You should also make sure that you do some research on the company and job role. There is nothing worse  than interviewing someone who hasn't bothered to research the company. This comes across as unprofessional and shows a lack of enthusiasm about the role.
Try to have a couple of questions of your own too for the end. This shows you are enthusiastic and have an interest in the role. Try to make sure the questions aren't money related.
Dress for the Part
It is essential that you dress in an appropriate way for an interview. Don't show up in jeans and a t-shirt. Always maintain a smart appearance as it sets a good example and leaves a positive first impression. Yes, many jobs may let you wear what you like but in an interview scenario you should always favour smart as a precaution.
You want to set a good example and leave the right kind of lasting impression. Dressing smart is professional and demonstrates that you want to be taken seriously. This will already set you apart from the other candidates who haven't dressed smartly.