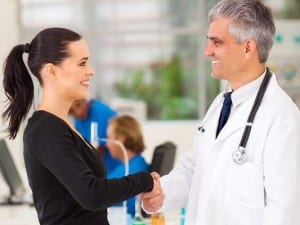 It can be a difficult, intensely competitive process for a medical technologist to move from the bench into medical sales.  I have a great example of how Jenn did this (even beating out two other candidates with sales experience), and wanted to share the story with you so you can gain some insight for yourself:
Dear Peggy,

Thank you! ...I have just accepted a promotion that will move me from the bench (I'm a medical technologist) into sales with my company. This opportunity will do wonders for my career options and my ability to keep providing for my family in this economy. The competition was intense. I made it through:

an initial on-line skills test
a 3rd party personality test
a face to face interview with the hiring manager
a second interview with the Vice President of Sales and Marketing for my division

I read your article about what it takes for med techs in particular to transition into sales and I vowed I would be one of the few who could do it successfully. I used your insight on that to tailor my interview answers towards highlighting my product knowledge, existing client relationships, and adaptability.

I studied for each step by reading everything you had to say and viewing all your videos. I went into the interviews armed with a brag book, a 30/60/90 day plan, and several letters of recommendation from current clients I already worked with that I presented as evidence of my ability to sell myself. It worked!

I found out later that there was a lot of behind the scenes political pressure to hire a candidate with outside sales experience,instead of promoting from within. There were at least two other candidates with sales experience I was up against. The hiring manager told me later that "You nailed it", "You overcame all our objections", "I was about to move on and wrap up the first interview when you brought out your plan and changed my mind" and that the VP told her after the second interview "She just closed this with no sales experience!"

Thank you, sincerely, for all your effort with your company, your blog, and your videos. Your insight helped me immeasurably. You make a difference in people's lives by doing what you do! ...I will be advocating for you on my personal blog as well as on twitter and in real life, and in the future should I need career coaching you are my go-to resource! Thanks again!

Jenn Mangino, BS, MT(ASCP) and now Key Account Executive!
Moving from the lab into sales can be hard work, but it can be done!
Here are links to two interview tools that Jenn used to get her medical sales job:
And here is a comprehensive, step-by-step resource that will give you a lot of direction and coaching from me:  How to Get Into Medical Sales.