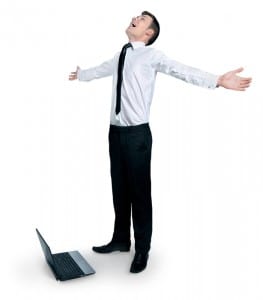 Here's an important lesson for your job search:
Online applications will get you nowhere; but contacting hiring managers directly will get you interviews!
See how this happened for Claude:
Hi Peggy-

Funny thing, after the webinar yesterday, I looked at a few of the positions I had applied for in the past week that I am very interested in, but heard nothing yet, researched the organizations, did my homework, found the right people, and reached out to them directly.

I sold myself and explained why I am the person they need, advised them my resume is in the "application pile", but would be more than happy to forward [it] to them directly.

I actually received follow up, and [was] advised that I will be included in the interviewing next week.

– Claude M.
If you have applied for some great jobs but haven't heard anything back, take a page from Claude's book and contact the hiring managers for those jobs.  (The hiring manager is the person who would be your boss or your boss's boss.)
If you're not sure how to get this done, watch my free webinar:  Stop Applying and Get Hired Instantly!
See how thousands of jobseekers have skipped online applications, got multiple interviews, and got hired fast. Get a better job faster!