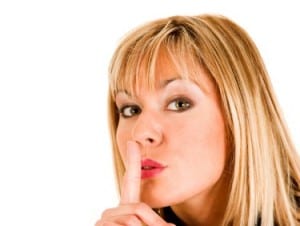 The best time to get a job is when you have a job--right?  But that means that you usually have to keep it on the down low.
Here are 2 ways to keep your job search a secret from your current employer:
1.  Polish your LinkedIn profile.  A great profile (filled with appropriate keywords) will cause recruiters and hiring managers to call YOU, which is the best way of all to get a job.  But paying attention to your profile also opens up your networking possibilities, and may very well lead you to a great oppportunity.
Put some effort into highlighting your skills and accomplishments.
Make new connections.
Endorse or recommend others (which will hopefully encourage them to endorse or recommend you).
Join groups and participate in discussions (which also grows your network).
What if your boss wants to know why you're suddenly so active?  Probably this won't happen.  If it does, simply say that (especially if you're in sales) that you represent the company and customers expect to see you there.  If you aren't in sales, just say you've heard you could learn a lot from groups, and you always want to keep learning and growing.
2.  Contact hiring managers directly.  Job seekers are most often "caught" when they submit their resume online, or respond to job listings where they don't know the company that's hiring.  If you contact hiring managers directly (the hiring manager is your future boss, or your boss's boss), you control who sees your information and limit your exposure to prying eyes.
If you have no idea how to contact hiring managers directly, check out my Hidden Jobs Finder.  It is a proven system for uncovering the more than 70% of unadvertised jobs and puts you in touch with the decision makers for those jobs.