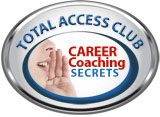 I love getting emails like these from TAC members:
I really appreciate the tools, ideas, advice, and confidence building from both you [Carl] and Peggy. Probably the best investment I've ever made!  It resulted in a 48% increase in base pay (if including perks and [benefits], it's 76% over my previous base and benefits). And add in the performance-based compensation (bonus, sales override, profit sharing) my reasonable first year earnings will most likely be close to three times my current compensation.

So, job well done, guys!  Thanks a million.

Russ
Wow! Russ didn't do anything but learn a different way to job search, and it resulted in a job that will pay 3 times what he was making in his old job.
What Russ is referring to is our Total Access Coaching.  It's our cost-effective alternative to private coaching.  Hundreds of our members say it boosts their confidence and gets them great jobs fast. Check it out for yourself here:  Total Access Coaching Club