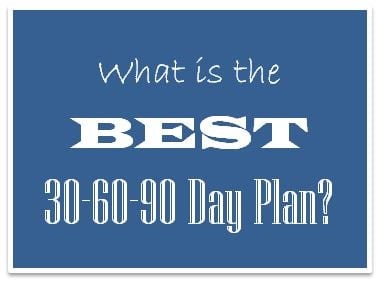 A 30-60-90-Day Plan is the most important tool or document you can bring to an interview (besides your resume). It gives the potential employer a glimpse into the future by outlining how you will approach the most important tasks and action steps of your first 3 months. It lets the hiring manager or interviewer have a 'test drive' of what you'd be like in this new job. As a result, it changes the dynamics and scope of your interview in a big, impressive way. It's the #1 way to improve your interview so you get the offer. I would personally never interview without one.
However—sometimes, people come to me and say, "I brought a plan, but I didn't get the job."
My question for them is, "What does your plan look like?"
You can't just Google '30 60 90 day plan' and expect to find a good plan. Not all plans are created equal. I've seen plenty of useless (and even damaging) free plans online—some are too short, some are too long, and some don't focus on the right actions.
In this article, I'm answering the most common questions I get from job seekers about what your 30-60-90-day plan should look like in order to get you the job offer—and I'll show you where you can get a template that's proven to be successful in a huge variety of jobs at all levels (entry-level to C-suite).
So…what does a good 30 60 90 day plan look like? How can you write the best plan?
Categories:
30-60-90-Day Plan, 30-60-90-Day Plan for Executives, 30-60-90-Day Plan for Managers, 30/60/90-Day Action Plans for Non-Sales, 30/60/90-Day Sales Plans, Business Plans For Interviews, Featured, Getting Hired, Job Interview Advice, Job Interview Preparation, Job Interview Skills, Job Search, Job Search Success, Job Search Tips, Jobseekers