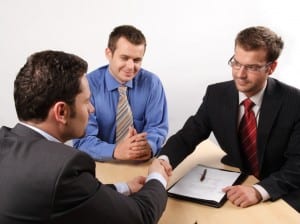 I wanted to share this with you--this job seeker used a 306090 Day Interview Plan and got the sales job on the spot.  They didn't even interview the other candidate.
Peggy, these are the kind of emails you love! Just last weekend, I bought your 30-60-90 Day Sales Plan for an upcoming interview this past week. I appreciate your encouragement, assistance, tips and template. The sales position was down to two final candidates. I was the first to interview.

For the interview, I was to make a presentation, present a 90 day sales plan, and have a sales call scripted out. I was pretty set on the presentation and sales script, but I was a little nervous about the 90 Day sales plan. I found your site online, and was convinced it was going to help me.

Well, Peggy, it more than worked! They were so blown away by the interview, the 90 day sales plan and the vision I demonstrated, they made me an offer right there on the spot. They didn't even interview the second finalist.

The CEO said, "This is the exact vision and energy I want for my company."

I don't think I would have made the impression that I did, if it wasn't for your guidance.

Thank you again for our brief, but very effective encounter!

Wes R.
If you want to make an impression like this and get the job in your next sales job interview, get my 30-60-90-Day Sales Plan now.