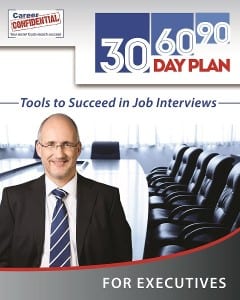 Executive Job Seekers: One interview tool can make sure you get a strong offer and give you the blueprint to success in your new role. This strategy gets C-Level, President, VP, and Director job offers fast—so you save months of time and thousands of dollars, and don't miss out on a plum job.
 * See More About the 30-60-90-Day Plan for Executives
Imagine you were interviewing 2 candidates…one answers questions well, and the other answers questions well AND has a plan that shows you exactly how they would approach the job, so you have a substantial, in-depth discussion about it. Which one would you hire? You'd hire the one with the plan, of course.
Having a plan means that you can prove your fit for the job. It shows who you are and what you can do. It allows you to communicate at a much deeper level about this job and demonstrates your knowledge, drive, work ethic, and commitment to success.
Having an in-depth plan to discuss in your interview also means that you avoid the 3 biggest reasons executives fail in the first 18 months:
(1) Difficulty in establishing credibility;
(2) Inheriting a crisis without a plan for solving it; and
(3) Undefined performance metrics.
Discussing these things with a plan in your interview gives you a blueprint to success in your new role.
Starting from scratch, creating a substantial plan requires significant research and thought, as well as a considerable number of hours. Not only do you have to research the company, you have to evaluate all the different tasks, actions, and priorities to determine which ones will be the most impressive and move you furthest toward success. This can take days, or even weeks.
The 30-60-90-Day Plan for Executives has ALL of the tested, proven tips and insights you need to quickly create a professional, strategic, powerful plan that will give you the best interview of your life—and the job offer.
The 30-60-90-Day Plan for Executives includes:
10 Tested, Proven, Job-Winning Plan TEMPLATES

Actual actions, tasks, and priorities, with commentary
Create a custom plan in as little as 2 hours

10 Example Plans

Anonymized actual job winning plan examples in different fields give you even more ideas and insights for your plan

10 PowerPoint Plans

Especially great for panel interviews, technical interviews, or graphics-required presentations

Video Coaching for Introducing and Presenting Your Plan in the Interview

Priceless guidance from a nationally-known executive recruiter and career coach will completely prepare you for using your plan in the interview
You will know exactly what words and phrases are guaranteed to positively bias the interviewer toward you and your plan
You'll know how to ask the question that all by itself boosts your chance of getting the job by 30%-40%
The template and the training together are so comprehensive that if you had a job interview tomorrow, you could get my plan today, spend some time with it and your company research, and go to your interview as the best-prepared candidate they see.
When you use the 30-60-90-Day Plan for Executives, your confidence level will soar. You'll have a great conversation with the Decision Maker, who will be impressed with your skill, understanding, drive, and enthusiasm. It will be the best interview of your life.
30-60-90-Day Plan for Executives GUARANTEE:
100% Complete Satisfaction or Your Money Back For a Full Year
 * Get Your 30-60-90-Day Plan for Executives Now