Dear Job Seeker, I'm about to show you why normal job searches are so frustrating and slow, and give you my tested, proven secret to a fast, powerful, positive job search that gets you a great job in a few weeks.
You will never have to suffer through another long job search that lasts for months, threatens your financial security and dents your self-confidence.
Your job search can be fast, exciting and easy …and make you feel like the valuable employee you are..
How can I promise that? Everybody knows that job searches are difficult, right? It comes with the territory. These days, a typical search lasts for 8 or 9 months, and there are plenty of stories about people who stay unemployed for more than a year.
But it does
not
have to be that way. My name is Peggy McKee. I'm a recruiter and career coach as well as the CEO of Career Confidential.
I want to show you what I've been doing with job seekers just like you that turns the typical job search upside down..
I show them how to job hunt in a very different way than everyone else, and it gets them amazing results. I can show you how you can have those same amazing results, too.
A Standard Job Search: Slow, Painful, Frustrating
Think about how most people look for a job: they post their resumes online, or look for listings on Indeed or Simply Hired. They find a job they like and fill out the application—over and over again: name, address, phone numbers, employment history.
It takes a tremendous amount of time—which might be OK if it got them a job, but it almost never does.
Around 99 times out of 100, those online applications float off into cyberspace, never to be heard from again.
You don't even get a "thanks for applying, we'll let you know" email response. Meanwhile, your bills pile up and people ask "How's your job search going?"
You keep saying, "I've got some good leads," but what you really want to do is not talk about it because it sucks, and you feel like a failure.
You blame it on the economy or the job market, but really, all you can think is, "Why doesn't someone want me?"
"What's wrong with me?"
It feels very personal to you because it is.
Your job is a big part of your identity and it affects every other part of your life. And when you can't get one when you need it that affects the rest of your life, too: you're depressed, you're short-tempered, and your confidence sinks to the ground.
That's a dark, miserable place to be…and you can find yourself there whether you are employed or not.
The job search itself—a normal, typical job search—is what does it to you.
The worst part of all is that it's not your fault. You're fighting a fight that isn't fair. In fact, it's brutal, and you're at a disadvantage before you even start.
The Vast Majority of Jobs Are Unadvertised…."Hidden"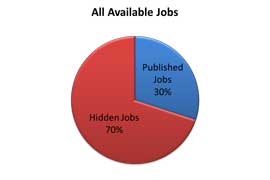 Do you know that
the jobs you're applying for make up only about 30% of what's available
at any given time? You can look it up:
Around 70% of all jobs are never advertised…that's the "hidden job market."
There are lots of reasons why companies don't advertise jobs—they just haven't gotten around to it, they hate working with HR, etc.—but the bottom line for you is:
You are NEVER considered for the jobs you REALLY want
It takes you MUCH longer to land a job
You NEVER know what opportunities you are missing!
But you can turn the tables. You never have to suffer through a job search that's stacked against you. You can throw that old job search out the window and have one that makes you feel good about yourself.
You don't have to wait to find a job you love that pays you what you're worth.
You can feel confident and optimistic about your life. You can quit saying things like, "I can't afford that right now." And when someone asks, "How's your job search going?" you will be able to say,
"Great. I had 5 interviews last week and I have 3 offers from some great companies.I'm trying to decide which one to go with."
How would it feel to be able to say that? That's where you want to be. How do you get there? With the same system I've been teaching my job seekers for years, that I call
The Hidden Jobs Finder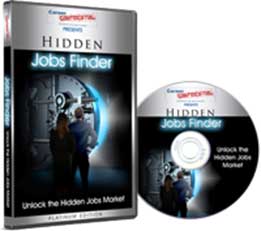 So what is it?
A Proven, TESTED System GUARANTEED To Find Jobs For You!
Locates Hidden Jobs in ANY Industry or Area
Gets Your Resume in the Hands of People Who Will Actually Hire You
Gets You Many Interviews FAST
Dramatically Increases Your Success
Gets You the Job You WANT
It's a targeted, very specific system that gets you in front of individuals within your industry who can hire you.
It maximizes your efforts so you get the most and the best results in the least amount of time.
People trying for months to get jobs and not finding anything have switched to this system and get jobs they're excited about in a matter of weeks.
How does it work?
1) I teach you how to FIND and CONTACT hiring managers directly.
Avoid HR…they can only say "NO"
Find the Hiring Manager…the only one who can say "YES"
Be confident when you contact them with my proven, customizable 'scripts'
(2) I teach you to contact HUNDREDS of hiring managers in a few short hours.
Win the job search 'numbers game'
Find more jobs than you thought possible
Maximize your efforts—more results, less time
Gain confidence from knowing you have options
Save MONTHS of time in your job search
(3) I teach you how to 'sell yourself' in the job search.
Enjoy a job search advantage…I use sales, marketing, and psychology to give you a BIG edge.
Make life easier with my verbal and written scripts…you don't have to worry about a thing.
Can I do this on my own?
You might be thinking, "I got it: Hidden jobs. Everyone knows about hidden jobs. Now that I know that's where I should be looking, I can do this on my own."
It's true that going straight to the hiring manager and selling yourself for the job are simple concepts, but they are very hard to execute on your own.
First you've got to find them, and then you've got to know what to say and when to say it. It's very easy to get bogged down in the process, and then you're still no further along than you ever were.
The Hidden Jobs Finder Makes Your Job Search Fast, Easy, and SUCCESSFUL.
It takes you through the complicated process of finding hundreds of hiring managers and communicating with them in a way that makes them pay attention to you in an easy-to-follow, powerful system that's proven to work.
My targeted search methods help you find dozens of hiring managers in your field, and put you in the front of the line for the jobs they have.
Use Google, LinkedIn, Facebook, Boolean Search Strings and the Telephone to quickly and easily contact hiring managers. It's like having an instant network of executives in your field.
Powerful, effective techniques save you tremendous amounts of time…job search only a few hours a day and you can be shaking hands with your new boss in a few short weeks.
Marketing and psychology secrets show you how to get the hiring manager's attention and sell yourself for the job. They give you a true advantage over other candidates—even those with more experience.
Sample phone scripts, email and voicemail messages make it easy to communicate with hiring managers—you will always say the most important things and make the best impression.
Follow up ideas and suggestions keep you on their radar in a positive way, so you don't lose any potential opportunities.
My comprehensive job search strategy tells you exactly what to do and when to do it so you have the easiest and fastest job search ever.
This is a true, step-by-step system that is completely adaptable to any job in any industry.
Once you start implementing the steps, things move fast.
I just talked to a woman the other day who'd been looking for 6 months, with no responses. Her self-esteem was taking a beating.
She used the Hidden Jobs Finder to contact 41 hiring managers, and got 6 responses within 24 hours.Those 6 responses got her two fantastic interviews.
That's what I mean by fast. Nothing for 6 months, and then 2 interviews within a few days.
Wouldn't you love to have a job search like that?
If your answer is "Yes," scroll down to the bottom of the page right now and get started.
Click "Add to Cart" and enter your information. We'll send you an email giving you access to your Hidden Jobs Finder and you can get started today.
It is exciting, and it will work.
If you want a little more information, here it is:
My personal experience throughout my career has been in sales, sales management, recruiting, and career coaching.
I have up-close-and-personal experience with the sales and marketing principles in this system. I've spent years researching and learning them to build my own business and help my candidates get hired. I've poured all of that experience into this system, and you won't find anything else like it.
I have years of experience communicating with hiring managers as well as actually being one. I understand what gets a hiring manager's attention…what they dream of seeing in a candidate, and what makes them sit up and take notice of you and call you for an interview. I've turned that into samples, templates, and examples of what to say in your own communication with them.
One of the most rock-solid, take-it-to-the bank things I've learned over my career on both sides of the hiring process is that you never, ever want to try to get a job by going through HR first. They're very limited in their view of what makes a perfect candidate and unless you fit their mold exactly, they won't pass your information along to the hiring manager.
And here's an example:
I used Peggy's system to contact the VP of Technology Delivery in the company who I did not know about the 2 previous times I've applied to this company for the same position. But this time, it worked! She forwarded my resume to the Training Manager who referred my info to the HR Manager who called last Friday. – Ed [last name withheld]
Same job, same company, same guy, different approach.
Absolutely nothing else changed about Ed but the way he approached the company. That's why it's so important to go to the hiring manager first…it works. You should never feel bad about yourself in the job search. You should just look at what you're doing and if it's not working, change it. The Hidden Jobs Finder is the change you need.
But I told you I have more success stories, and here are some of them:
I wish I would have worked with Peggy McKee a year earlier. I wasted an entire year sending out countless resumes. After initiating Peggy's techniques I received a 13% response rate and landed two interview opportunities within 21 days. I am still receiving requests for my resume months after I discontinued my search. Furthermore, I, also, worked with Peggy so that I was prepared during the interview. I am very grateful for the help and direction Peggy gave me. The investment that I made was a small price to pay to land a six figure job.
Adam Bratland Surgical Sales Washington
I got a job! Thank you all so much for your help. I have used the tools and in less than 2 weeks I went on 3 interviews and received written offers from each position. I took the 3rd position and had my first day today! WOW! Awesome support, tools and coaching from Peggy, Carl and the rest of the Staff. Thank you!
Dustin Long
WOW, you did it again! Since signing up for CC job seeking advice, I have been offered THREE positions. Yes, that's right, THREE positions! I followed every word of your advice and it produced the results for me.
Thank you from the bottom of my heart. It was the best investment I've ever made in myself!
Very truly yours, Connie Buurma
I'm one of those people who gather information from every corner of the universe and then distill it down for my own consumption. Having gone through that process with my job search strategies, I found that Peggy McKee has the best, most forward-thinking and effective information. She is 'Best Practices' job strategizing. The information she offered helped me to land my dream job after my very first interview.I'm in California where the effective unemployment rate (including those just recently graduated, those returning to the job market after a lengthier time away, and those who simply do not fit the statistical model for how the unemployment rate is calculated) is one in five (20%). I had age issues (I'm 59), I hadn't worked in 1 1/2 years due to health issues, so I was not among the candidates most likely for immediate hire. I started my new job last week and I could not be happier. Thank you, Peggy.
Jennifer Toland
You can have the same amazing results that these job seekers had if you get the Hidden Jobs Finder.
I know the job you're going to love is out there waiting, and you deserve to have it.
How Much?
This invaluable job-finding system that will change your life can be yours for only 3 payments of $77.00. By the time your credit card bill comes in, you can pay it off with the money from your first paycheck! But if you're still hesitating, let me sweeten the deal for you: Just to get you to give it a shot, and show you how much I want your success, I'm also offering you a couple of bonuses.
Bonus Offers
Your social network profiles are going to be front and center when the hiring managers you contact come looking to find out more information, so I want to make sure that what they see represents you at your very best.
So along with the Hidden Jobs Finder, you get two of my most popular tools:
LinkedIn Profile Tutorial
Facebook Profile Tutorial
These give you the best possible profile to impress hiring managers, and they do it in about an hour each.
If you're not on LinkedIn or Facebook yet, these will walk you through every step from start to finish. If you already have accounts set up, that's fantastic, but you must make sure they're representing you very, very well. Hiring managers will check out your profile before they respond to you, so you have to make the best impression you can. LinkedIn and Facebook do not teach the things I teach you in these tutorials.
DON'T MISS THESE INCREDIBLE
FOR THE FIRST 100 BUYERS:
A FREE PERSONAL RESUME REVIEW
» I will give you my personal feedback on the top 3 things that will make your resume represent you more robustly in the job search!
FREE LINKEDIN PROFILE REVIEW
» I will give you my personal feedback on how your LinkedIn Profile can be MUCH stronger for your job search!
I want you to be absolutely comfortable with making this investment, so I'm also offering you
A Complete, 365-Day Money-Back Guarantee
You can try the Hidden Jobs Finder for a full year, and if it doesn't do what I say it's going to do, I will give you all your money back.
This is the same Iron-Clad, No Hassle, Full Year Money-Back Guarantee we offer with every single product from Career Confidential.
It WILL do what we say it will, or you can call us or email us and ask for your money back. You have a full year to make up your mind.
You should have no excuses left not to get the Hidden Jobs Finder.
You want to find the best jobs…it finds great jobs for you
You want to stand out…it shoots you past your competition
You want something that works…it's proven to work
You want extra advantages…it gives you two social media bonuses
You want confidence…it gives you a resume and LinkedIn profile review
You want NO RISK…it gives you a 365-day money-back guarantee
You'd be crazy not to try it.
Don't waste one more second…scroll down to the "Add to Cart" button at the bottom of the page and click it. When you complete your purchase, you'll have access today to the Hidden Jobs Finder, and you'll have a job within a few weeks.
If you start today, in 2 days you will have easily been able to contact 200 hiring managers within your field. On average, you will get anywhere from 15-30 responses, which will get you about 6-8 interviews that could easily happen in the next couple of weeks.
That's very possible.
Most people who use the Hidden Jobs Finder end up with not just multiple interviews, they end up with multiple offers.
What will happen if you don't try it? You'll have the same frustrating job search you have right now.
If you don't start the Hidden Jobs Finder today, you won't have those 6 interviews. It's as simple as that.
You'll be sitting in the same place you are now…still unemployed and even more discouraged and frustrated.
Please don't let that happen. There's no reason for it.
I don't want you to be kicking yourself next week for not taking action on this now.
And how much money will you lose?
Remember, if you earn $60,000 a year, you lose $5000 every month you're unemployed. If you make more than that, you lose more than that.
That's money you can't ever get back.
And I understand that the money might be your argument for not making this investment, but this system is only a fraction of the money you're losing every month that you're not in a job that pays you what you're worth.
For that very small investment, you can stop the financial hemorrhage that's happening to you right now.
Scroll down to the Add to Cart button and get the Hidden Jobs Finder.
It will lead you through the process of entering your information, and you'll get an email that contains your access codes so you can get started today.
You have no risk, but you do have a lot to lose.
Your perfect job is waiting for you to step out and introduce yourself.
The Hidden Jobs Finder will make finding your dream job easier than you thought possible.
Get it now.
PS – The Hidden Jobs Finder is the fastest way to find and GET a job you love.
It couldn't be easier…
Uncover GREAT jobs you'll love…FAST
Discover the secrets of 'marketing' yourself in the job search
Use Google, LinkedIn, Facebook, Boolean search strings, and the telephone to find hiring managers
Get as many interviews as you want
Get customizable 'scripts' to communicate without mistakes—by email AND phone
Shine up your Facebook and LinkedIn profiles with our Bonus Tutorials
Get a personalized review of your resume and LinkedIn profile
Find great jobs you would NEVER have seen without the Hidden Jobs Finder!
Take advantage of this fantastic offer right now, before it's too late!